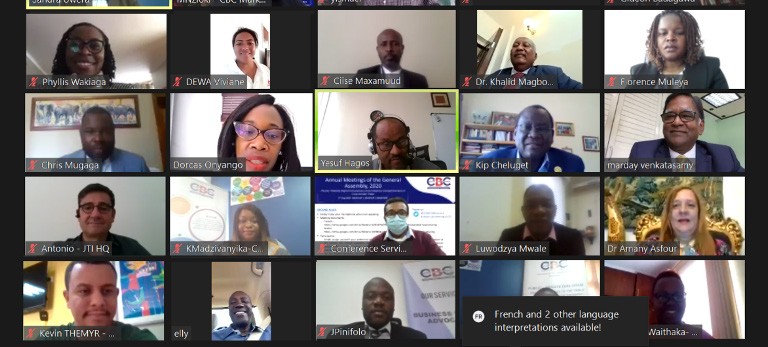 The current disruption in global supply chains has underlined the importance of regional markets, and the need to address constraints and build robust economies that can fully compete and take advantage of regional markets.
According to the Chairman of the COMESA Business Council (CBC) Mr. Marday Venkatasamy, the strategy of 'Building Regional Going Global', has never been more important than it is now.
He was speaking during the CBCs 9th Annual General Meeting (AGM) on Wednesday, 5 August 2020 and 1st Industry Technical Committee Meeting themed "Towards Digital Inclusiveness and Enterprise Competitiveness in Cross-Border Trade. The virtual meeting was attended by national and regional sectoral associations of 15 out of the 21 COMESA countries and corporate companies.
Cognizant of the  serious disruptions in trade and value chains caused by the COVID-19 pandemic, resulting in grave losses to economic output and business sustainability in the region, the  CBC has been active in influencing policy-making processes and high-level engagement to address some of the key impediments in regional and global trade.
Key advocacy programs for the second half of the year, include the CBC's Business Trader Observer: An Annual Survey of Business Impediments along Trade and Transport Corridors in the COMESA Region.
The other is the CBC Digital Financial Inclusion (DFI) project whose objective is to develop a digital integrated regional common payment scheme that can address issues of affordability, accessibility, convertibility and interoperability for Small and Medium Enterprises and industry response to mitigate the impact of COVID-19 on the private sector's competitiveness.
"The expected outcome of the proposed digital common payment policy for SMEs would be an increase in financial inclusion of SMEs and a subsequent increase in the volumes of digital cross-border transactions within the segment," Chairperson of CBC's Industry Technical Committee Dr. Sherif Al Gabaly, who is also the Chairman of the Africa Cooperation Committee, Federation of Egyptian Industries noted.
He called for collaborative public-private sector efforts in the identification and resolution of business impediments when conducting cross-border trade to inform public-private dialogue and advocacy efforts towards addressing the issue.
The meeting cited the need for increased efforts towards curbing illicit trade, prioritizing key business and trade facilitation impediments for advocacy, and setting up strong and more strategic engagement platforms with ministers, parliamentarians and regulators to address these issues.
COMESA Assistant Secretary General, Ambassador Kipyego Cheluget stressed  the need for consistent involvement and advocacy of the private sector in policy making processes and public-private dialogue to address some of the notable challenges in regional trade.
The meeting underlined the importance of increasingly adopting digital technologies for both manufacturing and services sector, in view of fast-tracking the development of industries and economies in the region