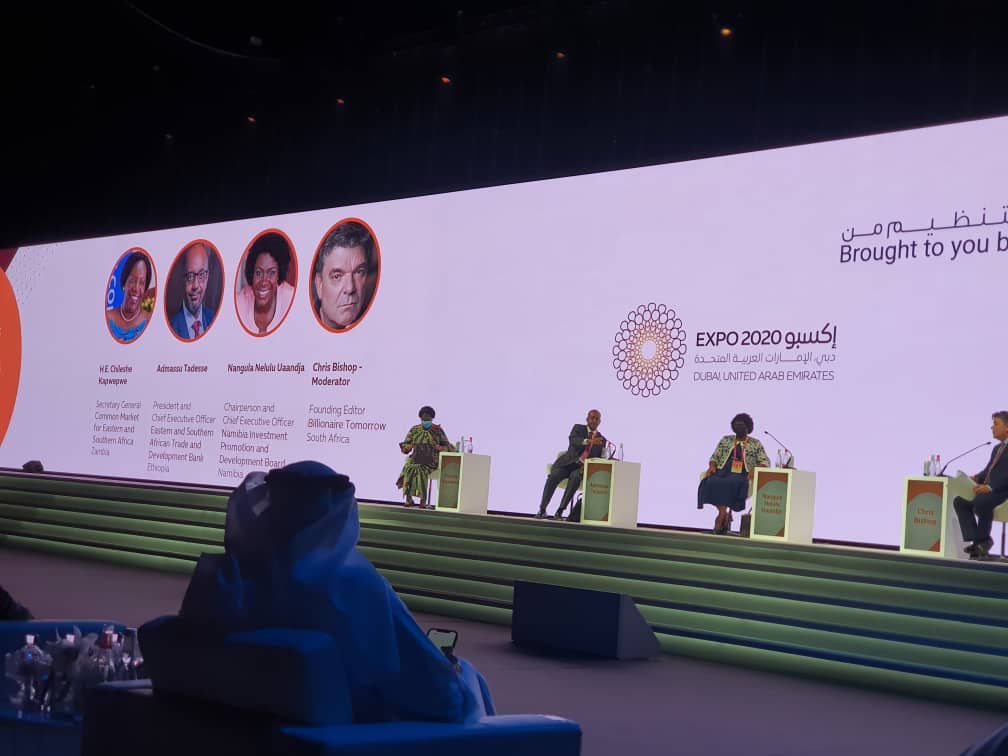 Secretary General Chileshe Kapwepwe was one of the speakers at the Global Business Forum – Africa. Along with the Group Managing Director and Chief Executive of the Trade and Development Bank, Mr Admassu Tadesse, the two were among three discussants on the subject: Transformation Through Trade which is anchored on three pillars: RESET – RESTORE – RENEW.
The Forum is part of the activities at the ongoing Expo 2020 Dubai.
Their topic focused on the RESET pillar which explores policy and regulatory reforms and assess the economic implications of the COVID-19 pandemic for the region. It further explores how the continent's countries can work together to deliver on the promise of the AfCFTA and enable sustainable growth.
Madam Kapwepwe told the audience that the role of digital technologies in mitigating the effects of the pandemic had proved critical by providing alternative methods of doing business in an unprecedented environment.
She cited the COMESA Digital Free Trade Area as one of the initiatives that aims at transforming the business processes that impede the attainment of the desired levels of efficiency and reducing the cost of doing business.
"This is a system, together with the regional guidelines on trade during the COVID- 19 which will contribute to cope with challenges caused by the pandemic," she said.
Among the lessons learned, during the pandemic, she noted, was the importance of accelerating innovation capabilities that allow embracing new technologies which remain the only way to improve efficiency and cutting costs of doing business.