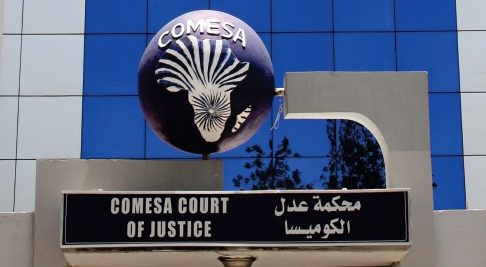 Lusaka, Tuesday, 14 March 2023: A decision of the Government of Mauritius to grant a subsidy to the Mauritius State Trading Corporation (STC) has been suspended by the Appellate Division of the COMESA Court of Justice (CCJ).
The action has been taken pending the hearing and determination of an appeal that has been filed by Agiliss Ltd, a private limited company and principal importer and distributor of staple foods in Mauritius.
According to Agiliss, on 7 June 2022, the Government decided to unilaterally grant a subsidy of MUR 500 million (approximately $10.7m) to STC, which subsidy was related to the importation of edible oils into Mauritius. Agiliss argued that the decision was in breach of several Articles of the COMESA Treaty relating to competition, trade remedies and safeguards.
The Government, on its part, argued that the move was intended to promote the manufacture and sale of cooking oil (among other commodities) to the public at affordable prices.
Agiliss had challenged the grant of the subsidy before the First Instance Division of the CCJ and sought an interim injunction suspending operation of the decision. The First Instance Division declined to grant the interim injunction based on lack of jurisdiction for failure to exhaust domestic remedies. It is this finding of want of jurisdiction that Agiliss is challenging before the Appellate Division.
The Government maintains that the CCJ lacks jurisdiction to entertain the matter because Agiliss did not comply with Article 26 of the COMESA Treaty on exhaustion of domestic remedies.
The Appellate Division held that Agiliss had sufficiently demonstrated that it would suffer irreparable losses that would not be adequately compensated by way of damages if the injunction was not granted. The Appeal will be coming up for hearing in due course.
Click here for the Ruling
About the CCJ
The COMESA Court of Justice was established in 1994 under Article 7 of the COMESA Treaty as the judicial organ of COMESA. The Court adjudicates and arbitrates on, among other matters, unfair trade practices, interpretation of Treaty (Protocols and other legislative acts) and ensures that Member States uniformly implement and comply with agreed decisions. Decisions of the Court on the interpretation of the provisions of the COMESA Treaty have precedence over decisions of national courts and are binding on all COMESA Member States. www.comesacourt.org
This post is also available in: Français (French)