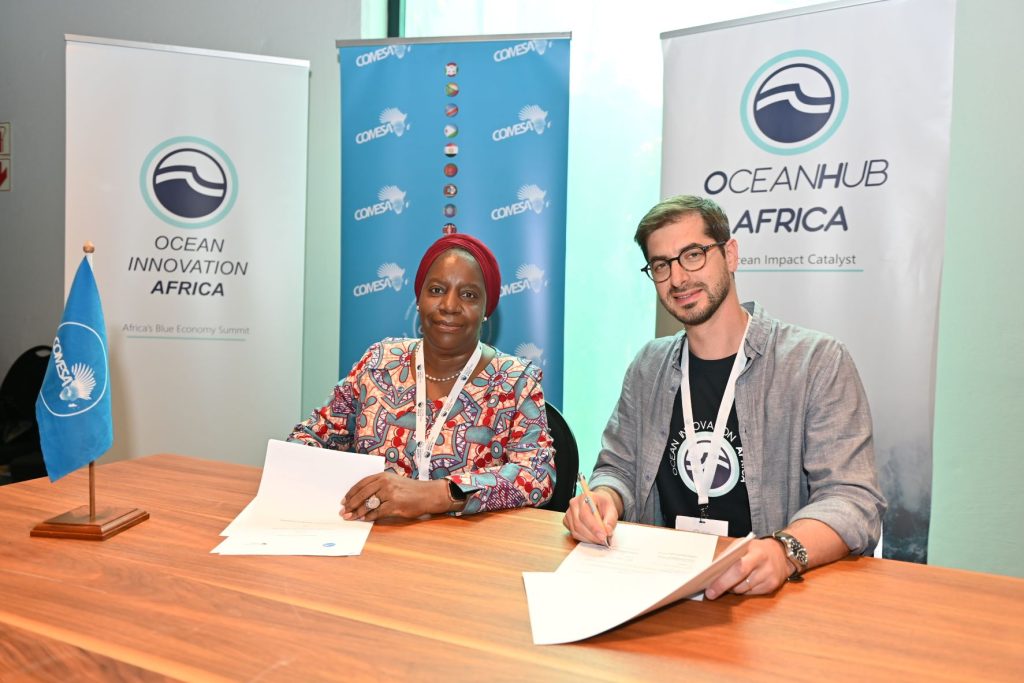 Cape Town, Thursday, February 23, 2023: COMESA and OceanHub Africa (OHA) have signed a Memorandum of Understanding to cooperate in the development of an ocean-based economy in the COMESA region. It was signed by COMESA Secretary General Chileshe Kapwepwe and Mr. Alexis Grosskopf, Executive Director of OceanHub Africa during the Ocean Innovation Africa summit in Cape Town, South Africa.
The MoU will facilitate cooperation in Blue Economy and development of an enabling ecosystem for Blue Entrepreneurs in the COMESA region. The parties will also collaborate in promoting cooperation in knowledge development and sharing to unlock the potential of ocean-impact entrepreneurship in the COMESA region. Other areas of cooperation will be in the identification, capacity building and technical assistance of ocean-impact businesses across the COMESA region.
The cooperation between the Parties under this MoU will take place within the scope of their respective institutional instruments, mandates, policies, procedures, resources and activities in the areas which constitute common or complementary interest to the parties.
Each party undertakes to invite the other as technical partner to all relevant conferences and meetings, organized under its auspices on issues of common interest, in conformity with its procedures and practices. Hence, representatives of COMESA will be invited to participate in the Annual Summit of OHA (Ocean Innovation Africa) and other relevant events. Likewise, representatives of OHA will be invited to participate in workshops and events pertaining to the Blue Economy organized by COMESA.
In her remarks, Ms Kapwepwe said COMESA has been supporting its member states in the development of policies, strategies and planned to assess the impact of climate change and pollution on aquatic ecosystems and biodiversity and promote the mitigation measures to improve the health of marine and aquatic ecosystems.
"We are committed to assisting our member states to realize sustainable ocean-based economic development and to emphasize the importance of balancing sustainable economic development and environmental protection, to build resilient, inclusive, and sustainable societies in line with the AU agenda 2063, as well as the SDGs 2030 Agenda," she stressed.
Mr Alexis Grosskopf explained the importance of "unleashing the power of innovation and inclusive entrepreneurial support for the development and adoption of new ocean solutions for local, and ultimately global, impact" highlighting the potential of their collaboration with COMESA as "an amazing opportunity to catalyze and spread change-making in one of the largest international trade zones, particularly exposed to climate change"
The MoU shall remain in force for a period of three years upon which the parties will jointly review it to assess the need for extension.
Note to Editors
COMESA is a regional economic community established in 1994. It brings together 21 African Member States with a population of 600 million people into a cooperative framework for sustainable economic growth and prosperity through regional integration. www.comesa.int
OHA is an "ocean-impact catalyst" operating Pan-African, supporting ocean-impact ventures through acceleration programs and coordinating an international ocean-minded enabling ecosystem. Its mission is to inspire and assist innovative impact start-ups and nurture an environmentally conscious, equitable and profitable economy that would effectively mitigate the oceans' overexploitation, pollution as well as the effects of global warming on the oceans. www.oceanhub.africa
Media Contacts
Mwangi Gakunga: mgakunga@comesa.int
Sabrina Long:  sabrina@oceanhub.africa