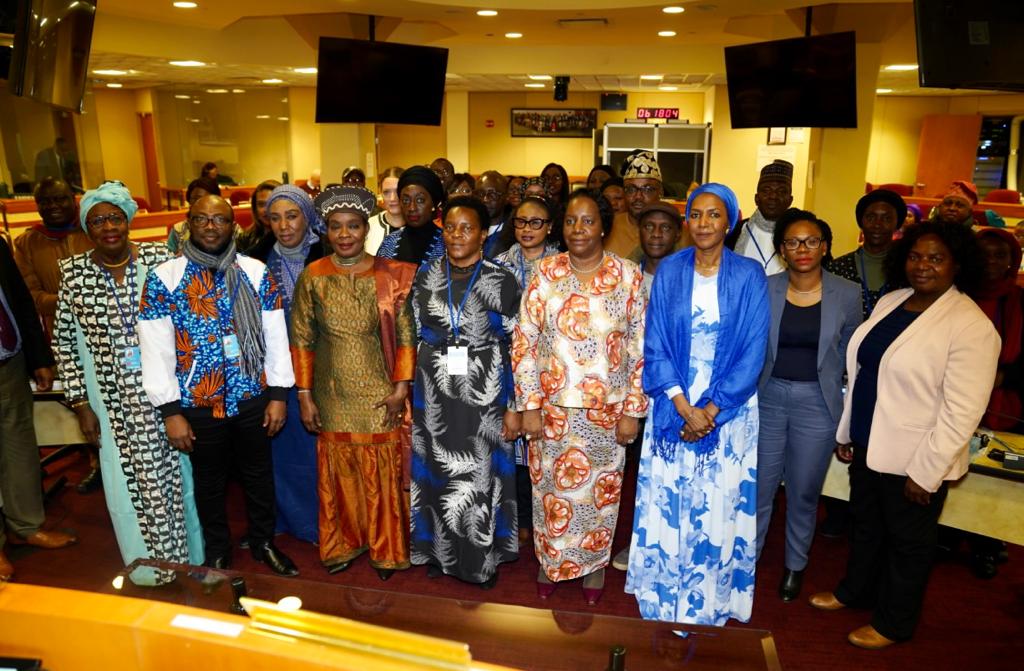 COMESA, the East African Community (EAC) and the Economic Community of West African States (ECOWAS), the three regional economic communities which are jointly implementing the 50 Million African Women Speak digital platform (50MAWSP), held a high-level partners engagement on Wednesday 8 March to mobilise support for the next phase of the initiative.
The meeting took place on the sidelines of the 67th Commission on the Status of Women which is happening at the United Nations headquarters in New York, USA.
Dignitaries in attendance included Ugandan State Minister for Gender and Culture Hon. Peace Regis Mutuuzo, AU Permanent Observer to the UN Amb. Fatima Kyari Mohamed, ECOWAS Commissioner Prof. Fatou Sow Sarr and high-level representatives from partners including the World Bank, Bill & Melinda Gates Foundation and the AfCFTA Secretariat, among others.
The dignitaries took turns to emphasize the importance of 50MAWSP as a viable tool for the empowerment of women and appealed to partners to support its transformation, citing its untapped potential to create economic opportunities for women and youth. The speakers at the event unanimously agreed that undertaking significant platform feature enhancements would be key to unlocking this potential.
"The recommendations that have consistently featured in the feedback from users include the integration of e-commerce to enable the women to trade with each other on the platform, enhancement of the platform to support live trainings to build the capacity of women to manage their businesses better, integration with financial services providers to allow users to seamlessly access credit, for example by requesting loans in-platform," COMESA Secretary General HE Chileshe Mpundu Kapwepwe said.
Ugandan State Minister for Gender and Culture Hon. Peace Regis Mutuuzo, who presided over the opening of the event, made a passionate appeal for the platform to be supported so that it could in turn support women and youth.
"Imagine how much support we could lend to the post-COVID recovery effort of building back better by enabling this platform to facilitate access to credit by creating grant schemes for the exclusive benefit of platform users.

"My appeal is for you to extend a hand of support that launches us into the next critical phase," she said.
On her part, AU Permanent Observer to the UN Amb. Fatima Kyari Mohamed affirmed that the continental body fully endorses the work of our regional economic communities on this initiative, "because in [50 Million African Women Speak] we see a real potential to transform the lives of millions of women, literally with a click of a button."