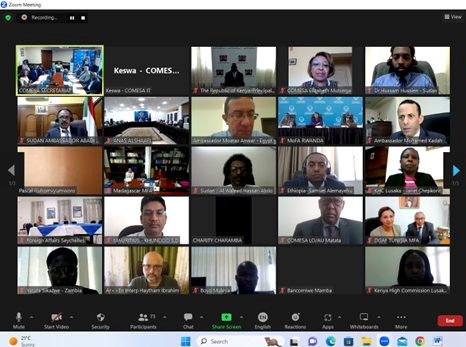 The COMESA region has to a large extent remained stable and peaceful, with a few areas of concern where conflicts have emerged or continued brewing. This was observed during the 18th Meeting of the COMESA Peace and Security Committee conducted virtually on 31 May 2023.
Notable progress towards peace building has been recorded in Somalia, Libya and Ethiopia. For Somalia, the committee noted that stakeholders have resolved the challenges and there is commitment to hold the next elections under universal suffrage.
Ethiopia was commended for settling the conflict in the Tigray region and the progress towards holding national dialogues this June. Positive developments were noted for Libya.
Speaking during the opening of the meeting, Secretary General Chileshe Mpundu Kapwepwe said despite the impressive progress made in some parts of the COMESA region, there is still need for the committee to provide the much-needed guidance to maintain stability across the bloc.
She cited the situation in Sudan and the Great Lakes region in the Eastern Democratic Republic of Congo as worrying and detrimental to regional economic integration.
"Despite the impressive progress made in some parts of our region the two developments have caught our attention and re-ignited the urgent need for us to review the conflict prevention and peace-building strategies that have been employed in recent times," Ms. Kapwepwe said.
She added that the Secretariat through the Governance, Peace and Security Unit will continue to focus on addressing the economic and structural dimensions of conflicts in the region. This includes efforts to forge strategic partnerships to enhance synergies and maximise the efficient use of resources.
During the one-day meeting, reports were presented on the current peace and security situation, progress made on implementation of the conflict early warning system, implementation of programmes developed to address conflict prevention and management. A report on the implementation of the COMESA component of the regional Maritime Security (MASE) programme was also presented and discussed.
The report of the Committee will be presented to the 18th Meeting of the Ministers of Foreign Affairs on Tuesday, 6 June 2023, which will take place in Lusaka, Zambia, ahead of the 22nd COMESA Heads of State and Government Summit on Thursday 8 June 2023.