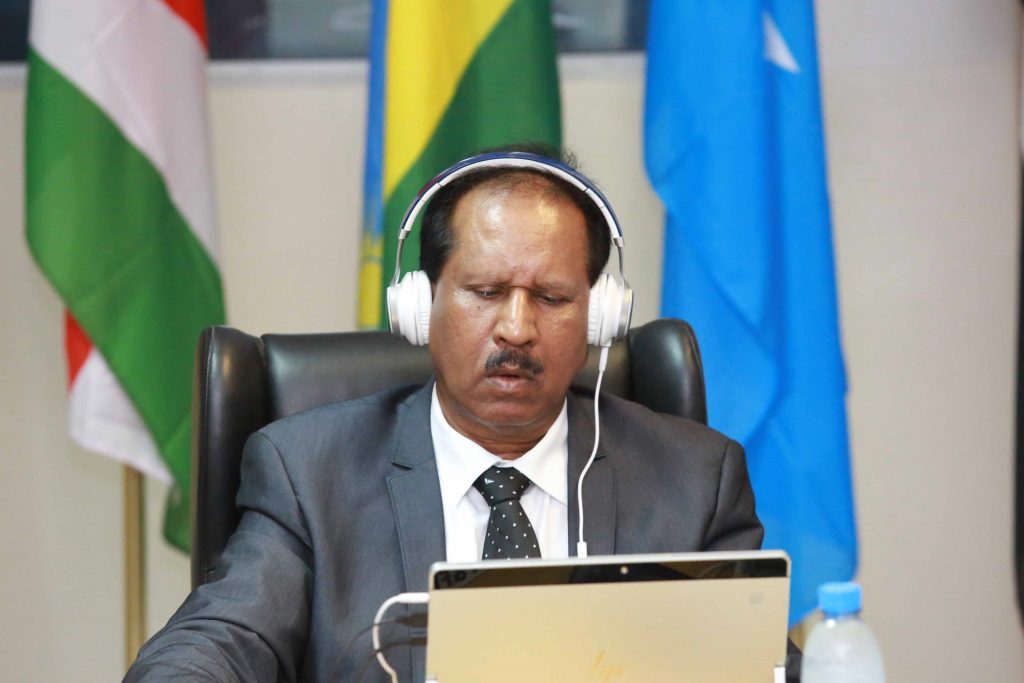 The COMESA Secretariat has congratulated the International Organization for Migration (IOM) on its 70th Anniversary. In a message of goodwill delivered by Acting Secretary General Dr Dev Haman, COMESA has described the IOM as a key partner on issues of migration in the region and beyond. He said this during a webinar on Friday 17 December 2021 which was commissioning the First Southern Africa Migration Report and marking the IOM@70
"…our heartfelt congratulations on the celebration of 70 years of existence of IOM. We are also celebrating the International Migrant Day (18 December) and in the spirit of "ubuntu" which we believe in, in the Southern Africa Region, let us also reflect on the need to enhance the welfare of migrants as one of the ways of harnessing the potential of migration for development,"
He pointed out that the two organisations have long standing cordial relations and the founders of COMESA recognized that the quest to attain sustainable economic development through trade and investment under the COMESA Regional Integration Agenda could not be achieved without promoting regular migration and addressing the vices that come with the opening of borders for people to move freely. Furthermore, under Article 164 of the COMESA Treaty, COMESA Member States agreed to take individual, bilateral or multilateral measures to manage migration and facilitate the movement of people across the borders for Development in a progressive manner and using the principle of variable geometry.
It is in this context, he added that COMESA welcomed the commissioning of the first Southern Africa Migration Report which will also benefit the 21-member trade bloc. The meeting heard that COMESA would be a stakeholder and beneficiary of the report due to the shared membership with the Southern African Development Community (SADC).
"It is our sincere conviction that we cannot enhance migration governance and management in the region without evidence-based policies and legislation that the Report can help us compile and disseminate policy making elements such as migration data.   I would therefore like to take this opportunity to pledge our full support to IOM and SADC in the development of this report,"
COMESA, through an Annual Migration Data Report to be launched soon with support of the African Union, the European Union through the Southern Africa Migration Management (SAMM) Project and the Swedish Government, will also provide data and information that can be useful in compiling the Report.
The meeting was informed that COMESA is committed to its working relationship with SADC on a bilateral basis, within the configuration of the COMESA-EAC-SADC Tripartite Free Trade Agreement (TFTA) and through joint initiatives such as the SAMM Project which is being implemented jointly with the support of UN agencies such as IOM and ILO. Furthermore, working under the African Union Migration Policy and Action Plan, the two Regional Economic Communities will continue to engage with other partners on the continent to address and promote regular or legal migration and address irregular migration and its vices in the form of human smuggling, human trafficking   and other cross border criminal syndicates.
The webinar was also addressed by the Chair of SADC who is also the President of Malawi His Excellency Dr Lazarus Chakwera among other leaders from the region.
COMESA and the IOM signed a Memorandum of Understanding over ten years ago and have since recorded achievements such as the development of tools of awareness creation on International and COMESA legal instruments for the COMESA Visa Protocol and the digitization of borders using the MIDAS system.