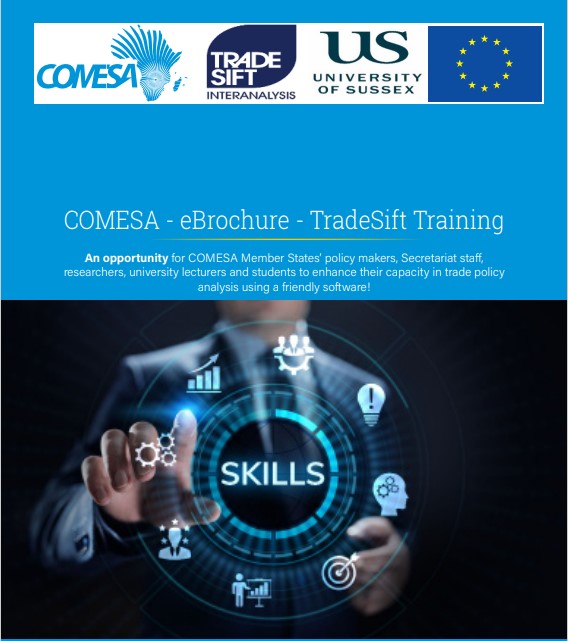 An opportunity for COMESA Member States' policy makers, Secretariat staff, researchers, university lecturers and students to enhance their capacity in trade policy analysis using a friendly software!
COURSE TITLE: Analysing International Trade Data using TradeSift
COURSE DATE (TBC): Mon 28 February 2022 – Thurs 3 March 2022
COURSE DURATION: 4 days comprised of live webinars + online training
REGISTRATION DETAILS: See below for details.
REGISTRATION DEADLINE: 18th February 2022
COURSE DESCRIPTION/OVERVIEW
Participants will gain the skills to understand and analyse trade data and trade policy choices. This course provides a comprehensive package to advance understanding of international trade and trade policy analysis. You will gain knowledge and skills in how to analyse and interpret trade data and how that can shape trade policy.
The course is funded by the COMESA Secretariat and delivered by InterAnalysis, based at the University of Sussex, UK.  The course is open to a limited number of participants from COMESA member  states. Information is provided below about who would benefit by participating in this course. Course entry requirements and the application process details are below.
Applications to be made online to COMESA Secretariat The course comes with free time-limited access to TradeSift software which  will expire after one (1) month after course ends. Participants in the course will be able to purchase their own copy of TradeSift at any time, at a 20% discount to the listed price.
TradeSift training courses are accredited for Continuous Professional Development (CPD).
Click on the link below for more details.
Download "COMESA - eBrochure - TradeSift Training"

COMESA-eBrochure-TradeSift-Training-Feb-2022_-amended.pdf – Downloaded 1464 times – 1.64 MB
This post is also available in: العربية (Arabic) Français (French)