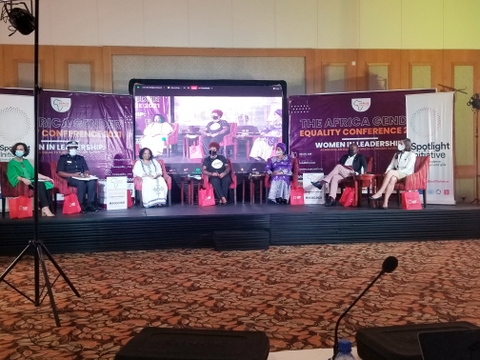 The COMESA Federation of Women in Business was one of the institution that participated in the 1st Annual Africa Gender Equality Conference (#AGEC2021) High Level Round Table Discussions during the International Women's Day under the theme: "Women in leadership: Achieving an equal future in a COVID-19 world".
This was the first ever such Conference took place in Lilongwe, Malawi from the 8th to 10thMarch 2021 and was broadcasted to the African continent virtually. Over 3,000 delegates from government, civil society, academia, gender equality advocates and activists participated.
The Conference provided a platform for Celebrating progress made towards attaining gender parity, 26 years post-Beijing, championing gender equality, Crowd-sourcing the development of home-grown solutions to addressing existing inequalities exacerbated by the Covid-19 pandemic and building the future by charting new pathways to attaining gender equal societies that are resilient to future crises.
One of the High-level events, sponsored by COMFWB and the UN Spotlight Initiative, was round-table discussions of policy makers, society influencers and development partners on approaches to collectively create a world free-of-violence for women and girls. The event featured prominent personalities from the UN, European Union, COMFWB, Ministry of Gender, Community Development and Social Welfare, the Ministry of Local Government and Rural Development, the Police and Chiefs of traditional leadership.
As an implementation institution, COMFWB acts as an intermediary between government/ development partners and women MSMEs in 21 countries to deliver services using national Chapters.
In the round table discussions, COMFWB CEO Ms. Ruth Negash stated:
"It is critical to create in all countries a gender inclusive, conducive business environment fostering policy consistency to tackle Violence Against Women and Girls at the workplace."
She noted that long lasting behavioral change to eliminate Violence Against Women and Girls (VaWG) can be expedited if the young generation learns through school curriculum and the society is exposed to the message through continuous Media campaign of denouncing VaWG.
Malawian Minister of Gender, Community Development and Social Welfare, Hon. Patricia Kaliati said the government is working with UN Spotlight Initiative and other development partners in building capacity in the society to sensitize and put sustainable systems and programs to eliminate violence against women and girls.