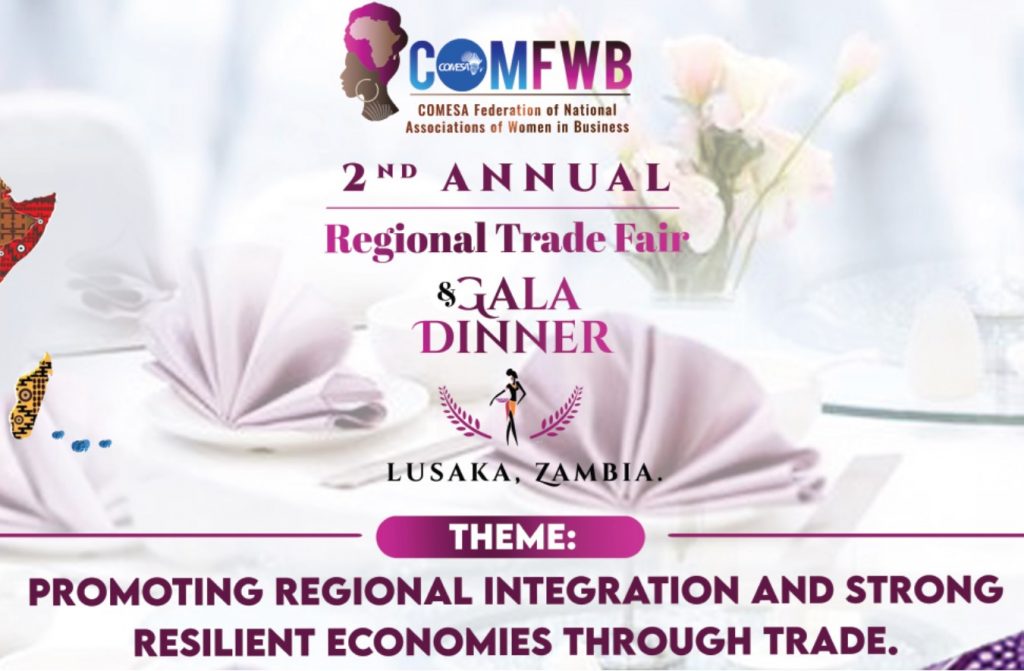 Lusaka, Monday, 20th September 2021: The COMESA Federation of National Associations of Women in Business (COMFWB) and the Zambia Federation of Associations of Women in Business, have partnered with the Government of Zambia to host the second COMFWB regional trade fair and gala dinner.
The 2nd Annual Regional Women in Business Trade Fair under the theme "Promoting Regional Integration and Strong Resilient Economies Through Trade'' will be held at the Mulungushi International Conference Centre in Lusaka, Zambia from 22 – 24 September 2021.  On the evening of September 24th, COMFWB will be hosting a Gala Night.
The Trade Fair will provide an opportunity for local, regional and international investors to engage and evaluate promising investment opportunities. During the exhibition, various goods and services will be showcased by exhibitors from the COMESA region and beyond.
The exhibition and workshops will bring together local, regional and international Women in Business and policy makers from Zambia, the COMESA region and abroad. It will provide a forum for sharing best practices through a series of workshops organized on different subject matters that hinge on enhancing regional trade.
The Exhibition shall among many other outcomes ensure that players in the production value chain will be complementing and supporting one another which will result in a decline in poverty levels in the host country as most Zambian women entrepreneurs will be linked.
Speaking ahead of the event, the Chairperson of the COMFWB Board, Ms. Maureen Sumbwe said despite the critical role the women entrepreneurs play in the economy, their businesses have continued to face challenges.
"Many women have limited access to finance because of the burdensome conditions set by the financial sector on obtaining loans, such as high interest rates, and requirements for collateral; and inadequate start-up capital. It is no wonder we have come up with this initiative," she noted.
In her remarks, the Chief Executive Officer of COMFWB Ms. Ruth Negash said besides the creation of new value chains, most participants will broaden their knowledge through interaction and creating sustainable linkages.
"The exhibition will provide an opportunity for women in business to showcase their products and services, promote a market-led approach to women entrepreneurs and business to business linkages," she added.