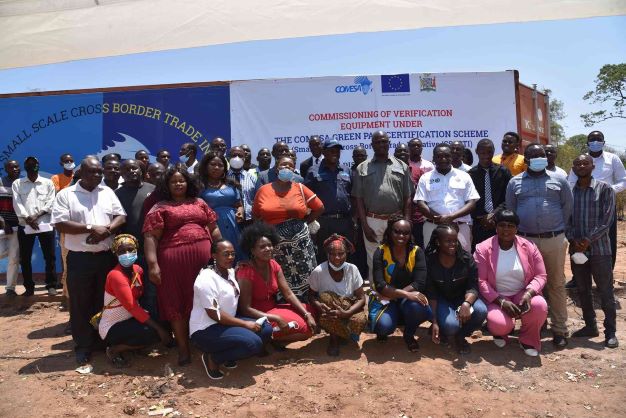 COMESA has commissioned EUR 100,000 worth of equipment under its Green Pass (GP) Certification Scheme in Luangwa District of Zambia, to facilitate small-scale cross border trade in fish.
The procurement of the equipment was funded under the 11 European Development Fund (EDF) Small Scale Cross Border Trade Initiative (SSCBTI) Programme. The equipment was commissioned on Thursday, 7 October 2021 and will support fish trade at Luangwa, bordering Mozambique and Zimbabwe at the confluence of the Zambezi and Luangwa rivers.
The equipment included Pesticide Residue Rapid Test Kits and reagents (organophosphates; organochlorides; heavy Metals), industrial electronic/platform scales: (250kg capacity) and digital electronic balance [0,01kg – 6kg]. Others were office equipment (laptops, printer and router) for online dissemination of certificates of analysis. These have been installed in a standard 40ft metal container as office space and storage of the equipment.
The objective of the GP is to reduce overall trading costs for small scale traders, through simplifying and consolidation of sanitary measures and border verification procedures. It is anchored within the framework of the COMESA Simplified Trade Regime (STR) and includes interventions such as governance structure (small border committees comprising key stakeholders under the joint border management committee) and provision of basic verification and testing equipment for the regulators.
Risk profiling of the traded commodities such as dried smoked and salted fish entering Zambia destined to other neighbouring countries such as DR Congo and Angola is also included in the framework.
Speaking at the site, Zambia's Permanent Secretary in the Ministry of Livestock and Fisheries, Dr Benson Mwenya emphasized the importance of ensuring that the equipment was put to the intended use and is well maintained.
"For the first time, we will now be able to measure accurately the quantity of fish coming into the harbour and being shipped across to various destinations in the region," he said.
He noted that unpredictable sanitary and phytosanitary (SPS) inspections and verification checks contributed to high trading costs, forcing small scale traders into informal routes.
Luangwa was selected as the pilot project for its thriving trade in fish across multiple borders and strategic location at the intersection of three countries; Zambia, Mozambique and Zimbabwe.
The project's framework was informed by studies carried out by COMESA, which showed that intra-regional and informal fish trade is a well-organized entrepreneurial activity. If well structured, it has the potential to contribute to regional economic development and enhance the livelihoods of the populace.
Assistant Secretary General in charge of programmes, Dr Kipyego Cheluget led the COMESA team at the event. Others were the Director of Agriculture and Industry, COMESA, Ms Providence Mavubi and the Director for Health Promotion, Environment and Social Determinants at the Ministry of Health, Zambia, Dr Abel Kabolo.