The host of the 21st COMESA Summit, Egypt joined the Common Market for Eastern and Southern Africa (COMESA) in June 1998. Soon after, it reduced tariffs with other COMESA countries by 90% and subsequently to 100% becoming one of the founding members of the COMESA Free Trade Area (FTA) in October 2000. So far,16 countries are members of the FTA, including Burundi, Comoros, Djibouti, Egypt, Kenya, Libya, Madagascar, Malawi, Mauritius, Rwanda, Seychelles, Sudan, Tunisia, Uganda, Zambia, and Zimbabwe.
Egypt's Trade Performance in COMESA

Egypt's trade performance in 2020, like most countries was affected by the Covid-19 outbreak. The value of Egypt's total exports to COMESA decreased by 32% from US$ 2.9 billion in 2019 to US$ 2 billion in 2020. Concomitantly, the value of Egypt's imports from COMESA also decreased by 33% from US$ 1 billion in 2019 to US$ 699 million in 2020. Egypt has always been a net exporter to the COMESA region.

In the year 2020, the major destinations for Egypt's exports in the COMESA region were Libya (US$ 520 million), Sudan (US$ 412 million), Kenya (US$ 318 million), Tunisia (US$ 243 million), and Ethiopia with exports worth US$ 84 million.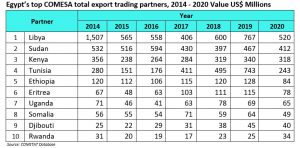 In 2020, Egypt's major COMESA import sources were Kenya, Zambia, Sudan, and Congo DR. Imports from Kenya were valued at US$ 179 million. Following Kenya were imports from Zambia with imported goods worth US$ 152 million, Sudan US$ 130 million, Congo DR (US$ 68 million) and Tunisia (US$ 54 million).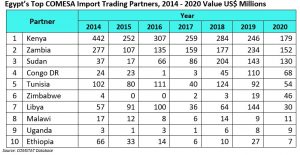 Intra-COMESA Trade potential
Egypt has the highest trade potential, which would increase intra-COMESA trade by US$ 26.3 billion followed by Libya (US$16.6 billion), Tunisia (US$15.7 billion), DR Congo (US$12.2 billion), Zambia (US$5.8 billion), Kenya (US$4.2 billion) and Zimbabwe (US$ 4.1 billion).
Egypt is the leading extra-COMESA exporter and has the highest accounting for 35 percent followed by Tunisia (16%), Ethiopia (8%), Kenya (8%), Libya (5%), Sudan (5%), Congo DR (4%), and Uganda (4%).
Home to COMESA Investment Agency
The COMESA Regional Investment Agency (COMESA-RIA) in hosted in Egypt. The RIA is one of the COMESA institutions that are based in different Member States. The agency was launched in 2006 with the mandate to promote COMESA as a leading destination for regional and international investment. https://comesaria.org/
Other COMESA specialized Institutions are:
COMESA Clearing House
COMESA Monetary Institute
Trade and Development Bank
African Trade Insurance Agency
COMESA Competition Commission
PTA Reinsurance Company (ZEP-RE)
Africa Leather and Leather Products Institute
COMESA Federation of Women in Business
Alliance for Commodity Trade in Eastern and Southern Africa
COMESA Business Council
Regional Association of Energy Regulators in Eastern and Southern Africa
East African Power Pool
Judicial Organ- COMESA Court of Justice