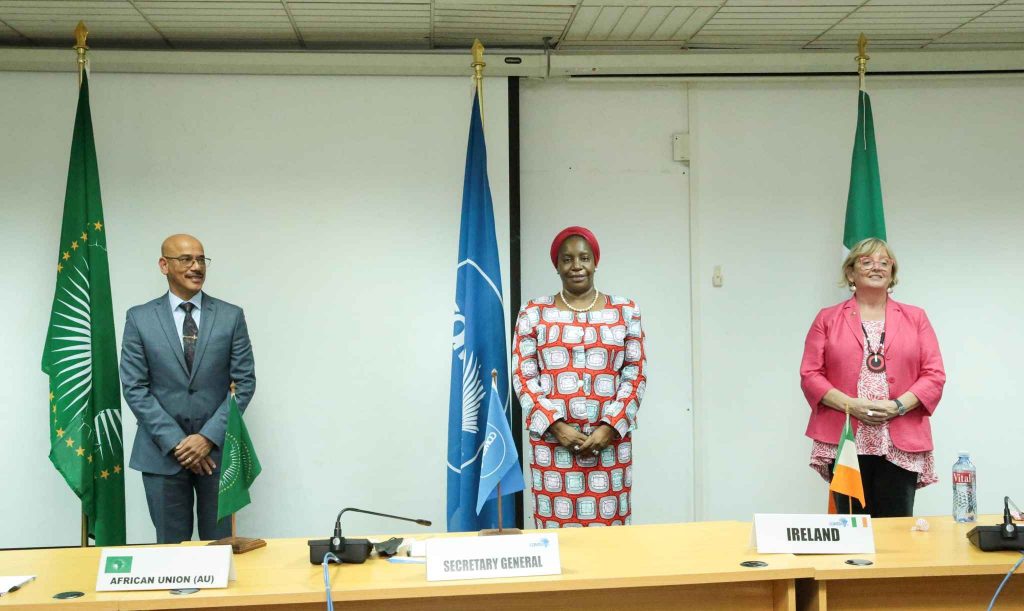 Irish Ambassador to Zambia and Namibia Ms Bronagh Carr and the Permanent Representative to the African Union – Southern Africa Regional Office (AU-SARO) Mr. David Claude Pierre, have been accredited to COMESA.
The two presented their letters to COMESA Secretary General, Chileshe Mpundu Kapwepwe, Wednesday, March 2, 2022, at the COMESA Secretariat in Lusaka. They now join the group of Special Representatives of their respective country and organization to COMESA, whose mandate is to enhance collaboration in various aspects of mutual interest.
Ambassador Carr said her country's is significantly stepping up engagement in Africa through her government's strategy on expanding mutually beneficial trade, including increased private sector collaboration in agri-food and in the technology sectors.
"These priorities are also at the centre of work of COMESA, and I look forward to further discussions on how we can work together closely to bring the real change, particularly for women and young people in the region," she said.
Ambassador Pierre said the focus of collaboration with COMESA will include communication and visibility, monitoring political development of concern to African countries in the southern Africa region, liaising and harmonizing specific policies of the AU and monitoring integration and development in the region.
Secretary General said the Irish Government has had a long-standing relationship with COMESA, especially through the European Union and was a key contributor to the European Development Fund, which is the largest external funding mechanism for COMESA programmes.
Among potential areas of collaboration with Ireland are promoting of digital technology and innovation to facilitate intra-COMESA trade; development of COMESA Digital Free Trade Area to promote trade through ICT platforms and tools.
Likewise, Ms Kapwepwe noted, that collaboration with AU-SARO, will be critical in harmonizing policies of the AU and COMESA as well as promoting the socio-economic, political and cultural development in the region.
She invited the two to look through the COMESA Medium Term Strategic Plan, 2021 – 2025 with a view of identifying potential areas of collaboration for viable programmes or projects that could be jointly implemented.