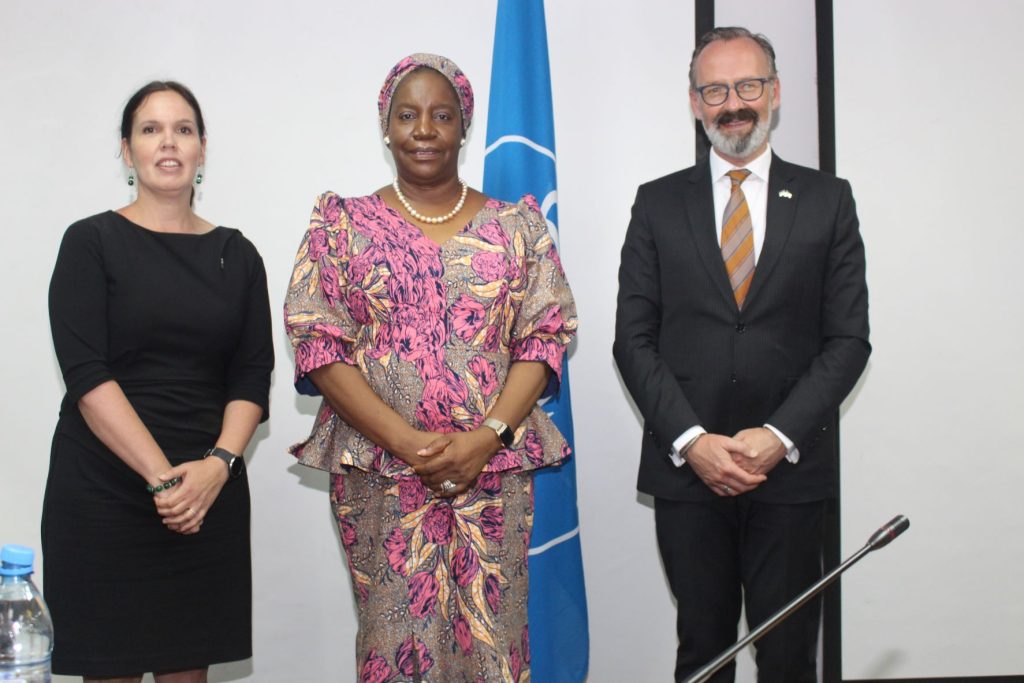 Finnish and Swedish Ambassadors to Zambia have been accredited as Special Representative of their respective countries to COMESA. The accreditation ceremony was conducted at COMESA Secretariat in Lusaka on 15 November 2022. Ambassadors Saana Halinen (Finland) and Johan Hallenborg presented their letters of credence to COMESA Secretary General, Chileshe Mpundu Kapwepwe.
Both countries support COMESA bilaterally and as members of the European Union, in various sectors including energy, gender, agriculture sectors and trade facilitation. Sweden has signed an agreement with COMESA through Swedish Statistics to improve the availability of regular up-to-date statistics of good quality in developing policies such as the Migration Policy Framework for Africa and the AU's Plan of Action 2018-2030. These are intended to address the effects of migration on women and men in Africa
Under this Agreement, COMESA is implementing the AU Migration Statistics Programme funded by Swedish International Development Cooperation Agency (SIDA). The programme is helping to gradually address the challenges faced in the development of statistics such as low quality of current data; lack of data sharing; lack of coordination among statistical actors at national, regional and continental level and lack of gender disaggregated data, among others.
With Finland, COMESA has received support through the COMESA Regional Investment Agency (RIA), which supported the organization of the first African Nordic Business Conference in 2017, in Helsinki. Further cooperation is with the Regional Association of Energy Regulators for Eastern and Southern Africa (RAERESA) which signed an MoU with the Council of European Energy Regulators, which represents 37 energy regulatory authorities, including the Finnish Authority.
Receiving their letters of Credence, the Secretary General thanked the European Union to which both countries belong for the support to COMESA programmes.
"We are aware, that based on 'Team Europe approach', Finland and Sweden will work towards effective implementation of the EU's New Neighbourhood, Development and International Cooperation Instrument and the Global Europe," she said.
Ambassador Hallenborg said Sweden recognizes the important role of the regional organization and looks forward to enhanced dialogue and relationship with COMESA in the future.
"In particular, we want to promote a progressive and fair trade policy that increases women's economic empowerment as well as efforts to combat corruption and build confidence in the democratic institutions," he said.
In collaboration with COMESA, Sweden supports a continental project to collect and analyze statistics on migration with a long-term expert based at the COMESA Secretariat.
Ambassador Halinen said Finland strongly advocates for free trade and has supported economic integration in Africa to strengthen regional trade by making it more inclusive and sustainable. In Zambia, she said, Finland has assisted Zambian companies to access the huge market in D R Congo resulting in 24.5 million US dollar export deals.