Technical regulations, standards, metrology, accreditation, inspection, testing and certification are utilized by societies to address issues related to the optimization of production, safety and health, consumer protection, environmental control as well as to manage risks and market failures.  Their sound development and effective implementation enable sustainable development, build welfare and facilitate trade.
Competitiveness of goods on the market is underpinned by market confidence in the quality of conformity assessment services which is attained through accreditation. By simple definition, accreditation is the third-party attestation related to a conformity assessment body conveying the formal demonstration of its competence to carry out specific conformity assessment task (testing including medical laboratories, calibration laboratories, proficiency testing providers, and certified reference material producers). Accessibility to accreditation services is therefore essential for products competitiveness in markets. However, in COMESA region, few member states have established internationally recognized National Accreditation Bodies for provision of such services (EGAC-Egyptian Accreditation Council; KENAS-Kenya Accreditation Service; MAURITAS-Mauritius Accreditation Service; and TUNAC-Tunisian Accreditation Council). The reason why most Member States have still not yet established national accreditation bodies lies in the prohibitive costs associated with the establishment of fully-fledged and internationally recognized national accreditation bodies (which can take up to 9 years), but also because one key pre-requisite is the need for a critical mass of skilled technical and lead assessors across the various accreditation scopes and fields at national level. Further, sustainability of an accreditation body (AB) requires a critical mass of laboratories for a demand-pull effect for the services of the AB otherwise it would require large subsidies from Treasury.  One option that some regions such as SADC have opted for given the fact that the region had only one internationally recognized accreditation body (SANAS of South Africa) was to establish a multi-economy accreditation body to cater for the needs of the region. Since COMESA already has 4 internationally recognized ABs, an appropriate option under consideration for the 21 Member Group entails a cluster grouping regional accreditation operational framework linking the 5 key ABs (including SADCAS) geographically to surrounding countries in their sub-region or language grouping for provision of accreditation services as illustrated below.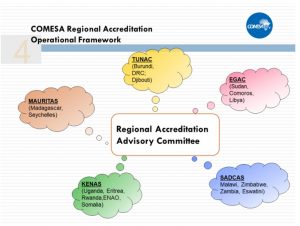 In this regard, the 11 EDF Trade Facilitation programme under TBT Component (4.2), aims at elaboration of a regional accreditation collaboration framework comprising existing Accreditation Bodies that would utilize a pool of trained accreditation assessors in each Member State. This would result in affordable accreditation across the region but as well as ensuring greater access to accreditation services by a wider cross-section of the regional economy (regulators, private sector, academic and research institutions). Successful implementation of the Framework hinges on capacity building of regional technical/lead assessors in key identified scopes and establishment of a database of Regional but country-based ''corps'' of assessors available for sharing and access amongst the 5 ABs.
The process for the establishment of the Regional Accreditation Collaboration Framework encompasses the following:
Status assessment of the scope and competences of accreditation assessors in the COMESA Region vis-a-vie the required areas for accreditation services to inform capacity development of a pool of assessors to support the implementation of the regional accreditation collaboration framework.
Round-Table Caucus Negotiations between the 5 COMESA Accreditation Bodies to discuss and agree on modalities for establishment of the COMESA Accreditation Collaboration and Operational Framework under the overall AFRAC framework
Capacity development of a pool of accreditation assessors to match up to the accreditation needs of the region to support the implementation and sustainability of the regional accreditation collaboration framework
In this regard, it is imperative that activity (1) focusing on status assessment of the scope and competences of accreditation assessors in the COMESA Region be embarked upon immediately as subsequent activities hinge on its outcome/results.
Click on the link below for more details.
Post expires at 3:00pm on Thursday November 12th, 2020