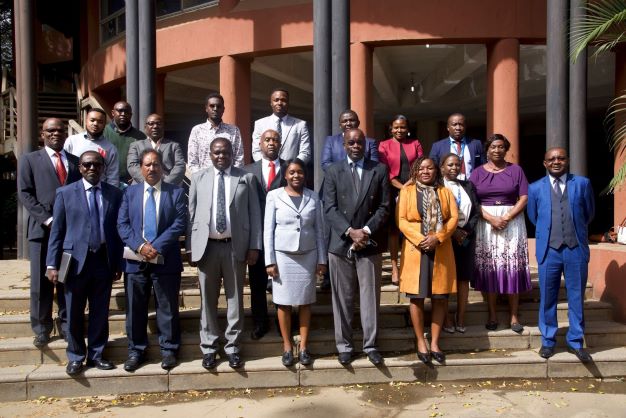 Lusaka, Tuesday, May 3, 2022: The overall import and export values of informal trade volumes in Zambia has significantly increased from  USD 13.3 Million in 2019 to USD 77.2 Million in 2021. Similarly, the informal trade export value has risen from USD81.02 million in 2019 to USD 206.08 million during the same period.
This is according to the results of a survey conducted on Zambia's Small Scale Cross Border Trade (SSCBT) which was announced on Tuesday, 3 May 2022 at the COMESA Secretariat. The highest volume of informal export was recorded at the Kasumbalesa border with DR Congo with the main informal export products being fish and fish products and rice being the main informal import product.
The survey results  were jointly announced by COMESA and the Zambia Statistical Agency (ZamStats), during a half-day hybrid workshop. The SSCBT data portal on ZamStats was also launched at the event. Also discussed was the possible continuation of SSCBT surveys when the current funding comes to an end.
The collection of the data was done by ZamStats in collaboration with the COMESA Secretariat from 2019 to date. It was supported by the 11th European Development Fund (EDF 11), through the Small-Scale Cross Border Trade Initiative (SSCBTI). It followed the General Trade System of compiling international merchandise trade statistics, which requires that all goods leaving or entering the country are recorded as they cross the customs' frontiers.
The Permanent Secretary in the Zambia Ministry of Finance and National Planning, Mr. Trevor Kaunda officiated at the survey results dissemination workshop. He urged all stakeholders to utilize the results for evidence-based policy formulation, decision making and socio-economic analysis.
In his remarks, COMESA Assistant Secretary General – Programmes Amb. Kipyego Cheluget noted that cross-border data flows have enormous potential for driving economic and social development.
"We have no doubt that these findings will contribute to increasing evidence-based knowledge and inform better trade policy at both regional and national levels," he said.
The Interim Statistician General, Zambia, Mr. Mulenga Musepa expressed optimism for the continuation of the survey and invited other development partners to support the initiative especially in other borders where significant informal trade takes place.
With funding from the European Union, COMESA has been facilitating small scale cross border trade with the aim of formalising and increasing its flows in the region. This is being done through effective policy and government reforms, institutional capacity building, improved border infrastructure and actions towards removal of barriers to small scale cross border trade.