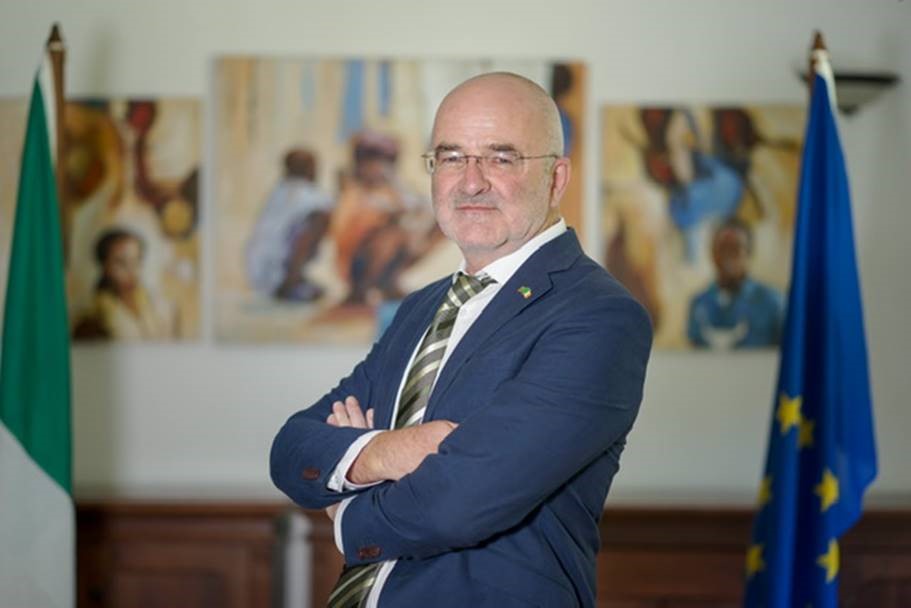 The Government of Ireland and COMESA Secretariat have begun engagements to identify potential areas of future cooperation to boost their mutual relations. Last week, April 22, 2021, the Head of Mission of the Irish Embassy in Zambia Mr. Pronch Murray and the Secretary General of COMESA, Chileshe Kapwepwe held a virtual meeting during which they discussed potential areas of partnership.
Ireland has supported the COMESA Alliance for Commodity Trade in Eastern and Southern Africa (ACTESA) particularly in the development of seed certification systems and had the potential of further up-scaling.
Other potential areas of collaboration are in mitigating the socio-economic effects of the COVID-19 pandemic on member States and the promotion of digital technology and innovation to facilitate intra-COMESA trade.
Key in this priority would be the development of COMESA Digital Free Trade Area to promote trade through ICT platforms and tools to replace paperwork and need for physical contacts.
Another potential area of support is women's participation in regional trade particularly on improving their access to information and collection of gender disaggregated data.
Mr. Murray observed that the Irish mission in Zambia is accredited to COMESA hence  enabling more robust interactions on potential cooperation. He said the Irish embassy's 2022 – 2026 strategy, which is expected to be finalized before the end of this year, also provides an opportunity to chart the way forward for the embassy programmes in Zambia and COMESA for the next five years.
Secretary General Kapwepwe noted that COMESA and Ireland had a good relationship and pursued their common interest through the European Union, which is one of the major development partners for COMESA.
She commended Ireland for its commitment to Africa following citing its recent commemoration of 40 years of diplomatic existence in Zambia.
Other issue discussed is the COMESA peace, stability, and security programme. The Secretary General explained that COMESA has developed early warning systems to manage potential conflicts.
"This is a potential area of collaboration to support Member States in early warning and monitoring mechanisms, as opposed to waiting for conflict to escalate," she said.
She emphasized that peace and stability were essential for trade and that this was a strong pillar for COMESA which had been supported very strongly by the EU in the past.
The two agreed to further engage on the highlighted issues and develop a programme to work on.