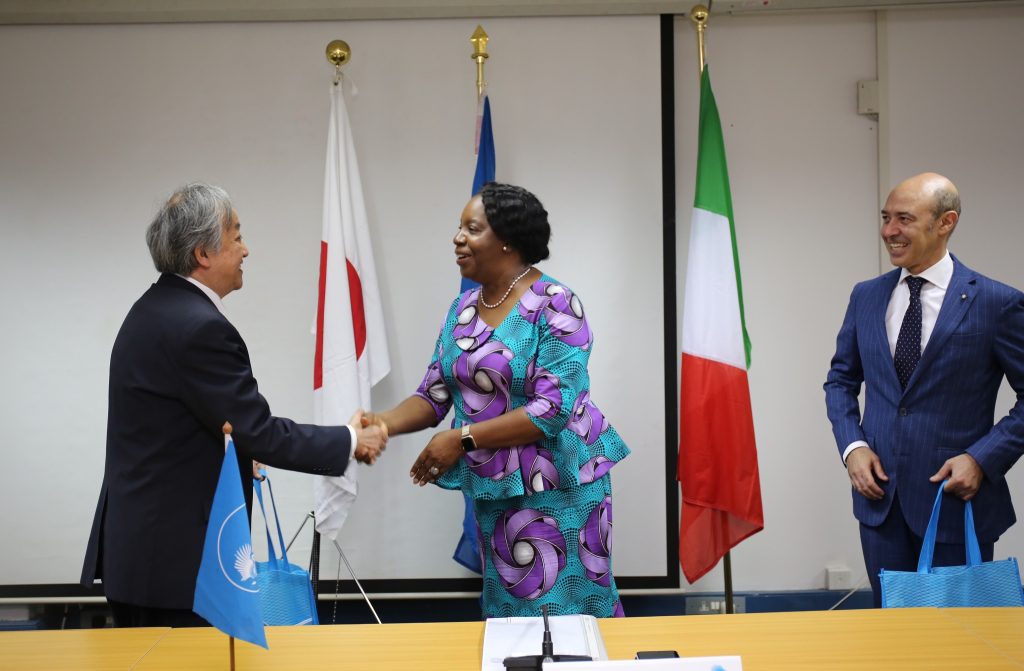 Italian and Japanese Ambassadors to Zambia have been accredited   as Special Representatives of their respective countries to COMESA. H.E. Dr. Enrico De Agostini (Italy) and H.E. Takeuchi Kazuyuki presented their letters of credence to the Secretary General, Chileshe Mpundu Kapwepwe at a brief ceremony conducted at the COMESA Secretariat in Lusaka on Tuesday 28 February 2023.
The Secretary General called for high commitment and strengthened collaboration with both Italy and Japan especially in the areas of Agriculture and Technology.
"There are more potential areas where COMESA and Italy could work together to further strengthen our cooperation and partnership such as agro-processing, the leather sector and livestock among others," she said.
She noted that apart from the bilateral collaboration between Italy and COMESA, there is also collaboration through the European Union of which Italy is a member.
The European Union is the biggest development partner of COMESA and based on the 'Team Europe' approach, the European Union and Italy will work towards the effective implementation of the Neighborhood, Development and International Cooperation Instrument (NDICI).
Madam Kapwepwe also applauded the Japanese Government, which through the 7th Tokyo International Conference on Africa's Development (TICAD7) meeting agreed to focus on promoting business projects between COMESA and Japan which saw Japan's exports to Sub-Saharan Africa, including COMESA Member States, increase to approximately 6.3m USD with imports at  7.5m USD.
"Since TICAD7, we have not had any joint programmes/projects with Japan and we look forward to identifying possible areas of cooperation to further our partnership," She added.
Ambassador Agostini, said his country is willing to engage with COMESA and collaborate in the infrastructure, agriculture, manufacturing and green energy in order to overcome the common global challenges.
"Italy and our industries with their enormous expertise in infrastructure, agriculture, and green energy are ready to cooperate with COMESA and its Member States in order to bridge the gap in the named sectors," Amb. Agostini said.
In his remarks, Ambassador Kazuyuki promised to engage more closely with the COMESA Secretariat and Member States to deepen the cooperation.