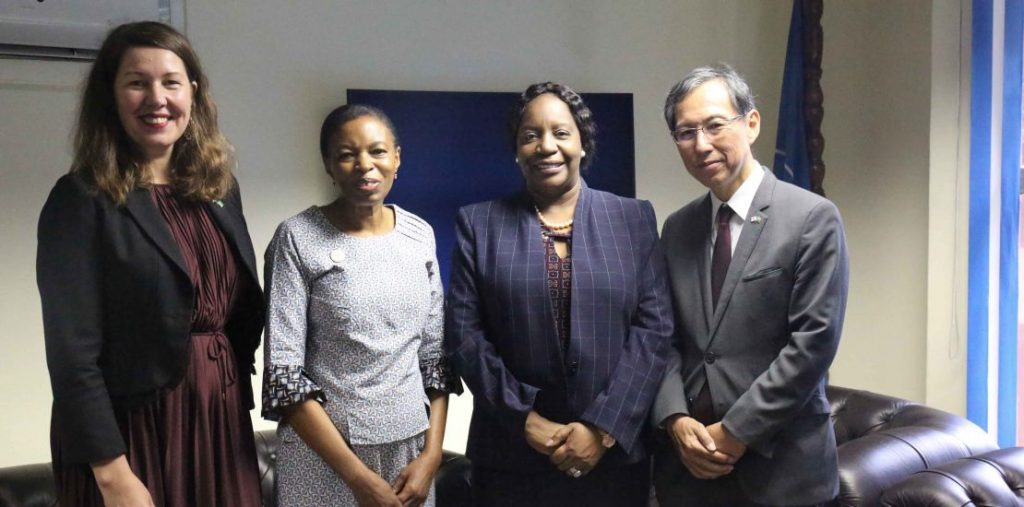 Lusaka, Wednesday 29 January 2020: Heads of diplomatic missions of Kenya, Japan and Sweden in Zambia, today presented their letters of accreditation as Permanent and Special Representatives to COMESA.
Kenya's New High Commissioner to Zambia, Ms Flora Karugu was accredited as Permanent Representative to COMESA. Ambassadors Ryuta Mizuuchi of Japan and Anna-Maj Hultgard of Sweden were accredited as special representatives of their countries to COMESA respectively.
The joint presentation took place at the COMESA Secretariat in Lusaka.
Receiving the credentials, Secretary General Chileshe Mpundu Kapwepwe briefed the diplomats on the status of the regional integration programmes which has seen COMESA establish the largest number of trade facilitation institutions and agencies in Africa.
These have specialized in trade finance, trade insurance, engagement with the private sector, competition policy, investment promotion, women in business, seed harmonization and the Court of Justice.
"These institutions have grown to become continental bodies that serve countries beyond the COMESA Member States," she said. "COMESA forms a major marketplace for both internal and external trading with the current value of global trade in goods worth US$235 billion."
In addition to the trade facilitation program, she said COMESA is also implementing the Small–Scale Cross Border Trade Programme, the 50 Million African Women Speak Programme, which is a digital networking and information platform for women and youth, climate change mitigation and resilience and the Tripartite Free Trade Area (TFTA) among others.
Ambassador Karugu commended COMESA for the integration programmes which have provided Member States with opportunities for rapid development, expanded market for trade, free movement of people and offer solutions to challenges faced most countries.
"Kenya's exports within COMESA is estimated at USD$1.6million in 2018 while imports stood at USD$1.1 million in the same year," she said.
Japan's Ambassador Mr Mizuuchi stressed the importance of establishing One Stop Border Posts in the region. He said such infrastructure brings about efficiency and timely processing of cross-border procedures. He urged for frequent interaction and exchange of information between COMESA and Japan Embassy in Lusaka office, too ensure that Japan investors are constantly informed on the opportunities and developments in the region.
He added that his government through the Seventh Tokyo International Conference on Africa's Development (TICAD7) meeting agreed to focus on promoting business projects between COMESA and Japan.
Sweden's Ambassador Ms Anna-Maj Hultgard called for the involvement of more women into business and trade adding that gender equality contributes to growth in all countries, regardless of the level of development.