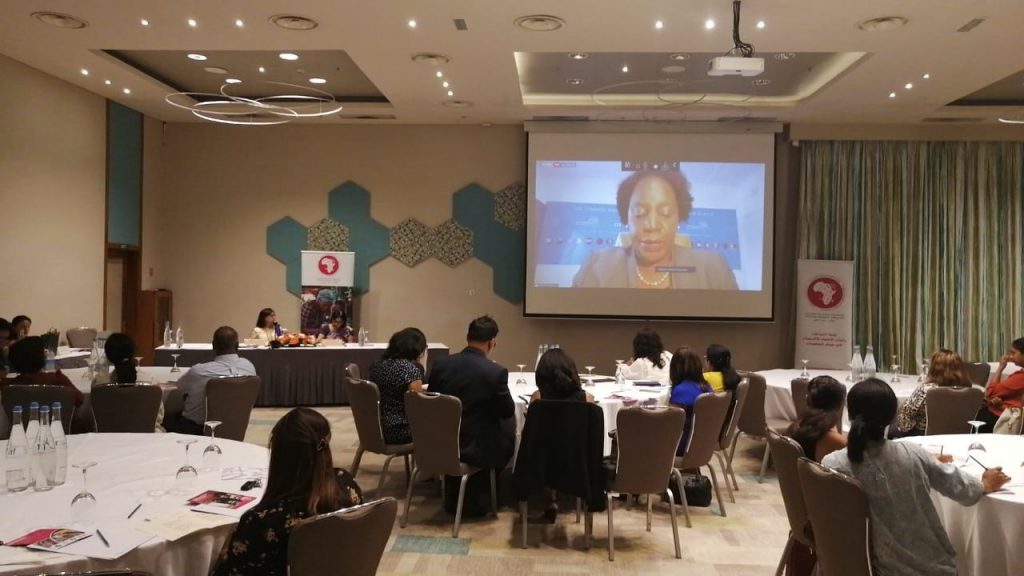 The 50 Million African Women Speak (50MAWSP) platform was unveiled Thursday 11 February 2021, in Ebène town, as Mauritius became the tenth COMESA Member State to launch the digital networking initiative.
The national launch of the platform was presided over by the Permanent Secretary in the Ministry of Gender Equality and Family Welfare Dr. Rooba Moorghen, who represented Minister Hon. Kalpana Koonjoo-Shah.
Chief Guest Dr. Rooba Moorghen thanked the African Development Bank (AfDB) for spearheading the initiative, which she noted would complement the efforts of the Mauritian government, and paid tribute to COMESA for its partnership.
The Permanent Secretary described the timing of the launch as perfect.
"Today's event is happening at an opportune time as we move towards accelerating our drive towards the Sustainable Development Goals," Dr. Moorghen said.
"We are duty-bound to find solutions to ensure that women become part of the transformation in the COMESA region," she added, noting that the wealth of information on the platform will enable users in Mauritius to expand supply chains.
The event was conducted through a hybrid arrangement with a limited number of local participants gathered physically and the other guests joining virtually, with COMESA's high-profile participation led by Secretary General (SG) Chileshe Mpundu Kapwepwe, Assistant Secretaries General Amb. Dr. Kipyego Cheluget (Programmes) and Dr. Dev Haman (Admin & Finance). Also in attendance were Ms. Linet Miriti-Otieno, Chief Gender Officer at the African Development Bank (AfDB) and Ms. Ruth Negash, Chief executive Officer of COMESA Federation of Women in Business (COMFWB).
COMESA SG Kapwepwe said she hoped the platform would be a springboard for Mauritian women entrepreneurs coming off a difficult 2020.
"This platform comes at a time when the need for businesses to transition from their traditional physical spaces into a new normal where they operate online is not an option anymore; it is an imperative," Ms Kapwepwe stated.
Speaking on behalf of the AfDB, which provided funding for the platform, Ms. Linet Miriti-Otieno said 50MAWSP should become "the 'Facebook' of women entrepreneurs in Africa" noting that it possesses the potential to spur engagements that can lead to women's economic transformation.
"We know that this project is not a magical bullet that will transform women's entrepreneurship overnight. However, on the 50 million women platform, there can be 50 million ideas and solutions that will lead us to the future we want for African women entrepreneurs."
The launch event also featured a panel where panelists comprehensively discussed the approaches for supporting women to utilize digital tools, as well as a detailed exposition of the opportunities for women entrepreneurs in the COMESA region which was presented by Ms. Providence Mavubi, Director for Industry & Agriculture at the COMESA Secretariat.
The 50 Million African Women Speak platform aims to facilitate a dynamic and engaging exchange of ideas among women entrepreneurs, using in-built social media functionality to connect them with one another in ways that will foster peer-to-peer learning, mentoring and the sharing of information and knowledge within communities, and access to financial services and market opportunities between urban and rural areas, and across borders and between countries. The next launch is scheduled for 18 February 2021 in Malawi.