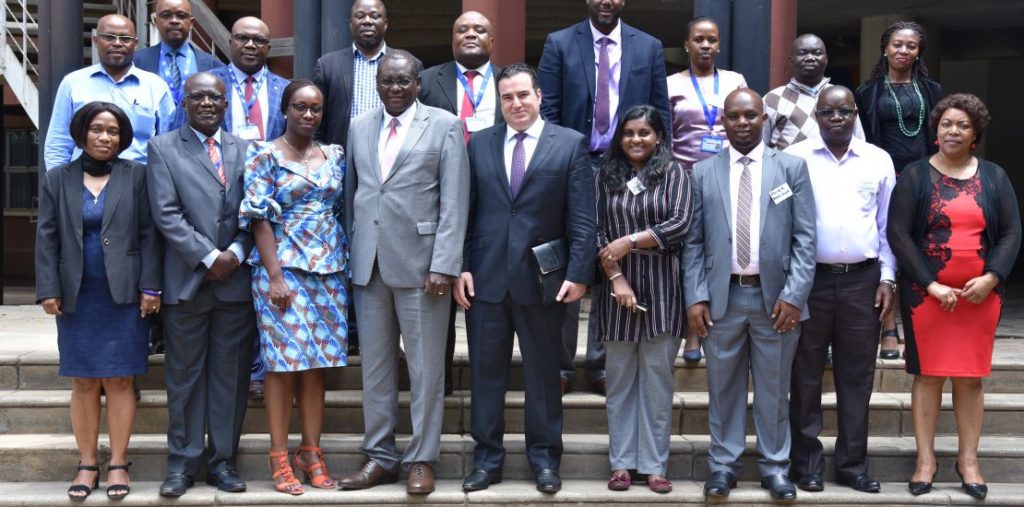 Fifteen new members of staff who joined COMESA in the past six months have been taken through an induction programme to prepare them for their new roles at the Secretariat. Among them are two directors, one in charge of Agriculture and Industry and the other for Trade and Customs and the Head of the COMESA Liaison office in Brussels. Others are professional staff recruited from Member States and support staff mainly drawn from the host country, Zambia.
The orientation programme was organized by the division of Administration and Human Resource to help the new staff fit in the Secretariat's multicultural environment that brings together 21 nationalities.
The new staff in the professional category are: Ms Providence Mavumbi, Director of Agriculture and Industry, Mr Hugh Onyango, Director of Trade and Customs, Mr. Ahmed Abdelsalam, Head of COMESA Brussels Liaison Office, Mr Silver Mwesigwa, Head of Procurement, Ms. Raumnauth Darshenee, Social and Cultural Affairs Officer, and Mr. Norbert Ndayishimiye, Internal Auditor.
Secretary General Chileshe Kapwepwe welcomed the new staff and called on them to apply their skills and experiences in making a positive impact in promoting the regional integration agenda.
"This is the beginning for a new journey in the realm of regional integration and it's my hope that you shall bring all the experiences from your various places to help build on what we already started," she said.
Assistant Secretary General in Charge of Programmes, Ambassador Kipyego Cheluget advised the new staff to observe diplomatic etiquettes in their day-to-day endeavors, adding that they are now ambassadors of a diplomatic institution.
"Ensure that you observe high levels of discipline as you begin your journey with COMESA. Remember that you are now diplomats and you now represent COMESA in what you do and so choose the places you go to, what you do and how you do them and manage yourselves, " Dr Cheluget said.
During the two-day orientation program, the staff received briefings from all divisions, units and projects.