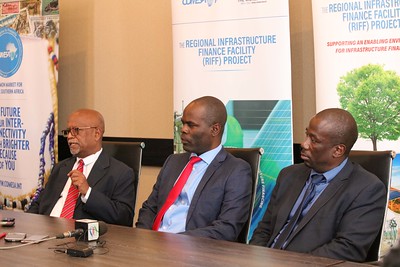 Lusaka, Tuesday, May 10, 2022: Over 40 Energy Experts from COMESA Members States are attending a capacity building workshop on Off- Grid renewable energy conducted by the Regional Infrastructure Finance Facility (RIFF), a World Bank financed project implemented jointly by COMESA and the Trade and Development Bank (TDB).
The workshop, which is taking place in Zambia, is intended to identify opportunities for collaboration with Member States, especially in the promotion of Off-grid sub sectors in renewable energy infrastructure.
The RIFF project has a total funding of US$ 425 million split in two: a grant facility of $10 million to COMESA and a credit facility of $415 million to TDB. The TDB component is primarily for provision of loans to viable infrastructure projects with private sector interest while the COMESA component is supporting the creation of a conducive environment for private sector investment in infrastructure.
The project's component on infrastructure finance facility amounts to US$ 325million and is being administered by TDB. It will provide long-term finance to infrastructure sub-projects that meet the set development impact criteria.
Participants to the workshop, which runs from on 10 – 12 May 2022, are drawn from Ministries of Energy and Energy Regulators from 16 COMESA Member States.
The need for capacity building was informed by a study commissioned by COMESA  to gain an understanding of the current status of renewable energy which focused on Off grid energy.
Speaking at the opening of the workshop, COMESA Energy Economist, Mr Malama Chileshe said it was crucial to share the findings of the study to facilitate understanding of the gaps in promotion of Off grid renewable energy and come up with solutions.
"This capacity building workshop will therefore be used as a platform to disseminate the findings of the study to the Member States targeting policy makers and regulators in the energy sector," he said.
He added that the COMESA Secretariat will support Member States to develop policy and regulatory instruments that may be required to move the Off grid renewable agenda forward.
The workshop is expected to identify common opportunities that allows member countries to work together with the RIFF project while also, identifying unique challenges and opportunities.