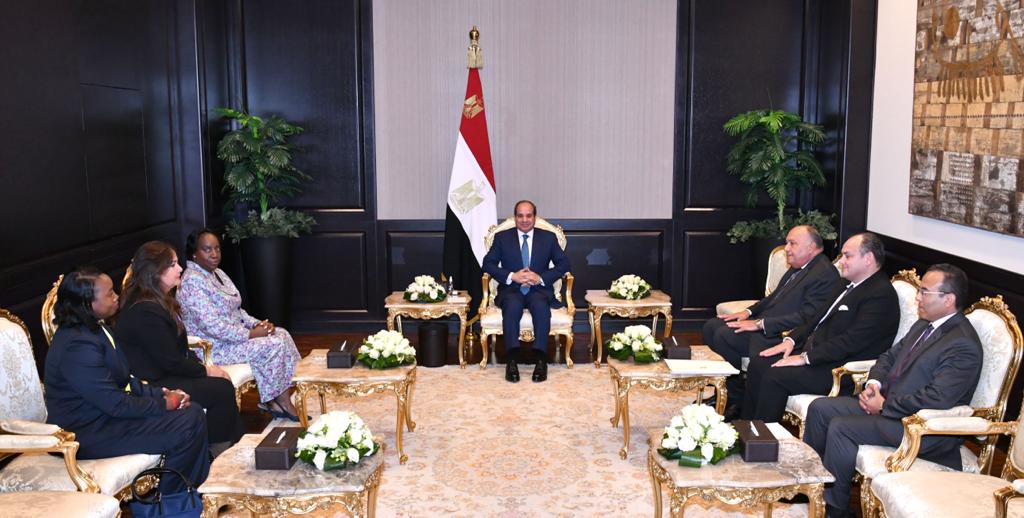 Cairo, Friday, 26 May 2023: On the margins of the on-going 2023 African Development Bank Annual Meetings in Egypt, COMESA Secretary General, Her Excellency Chileshe Mpundu Kapwepwe, met His Excellency Mr. Abdel Fattah El-Sisi, President of the Arab Republic of Egypt, who is the current Chairperson of the COMESA Authority of Heads of State and Government.
The objectives of the meeting were, firstly, to brief the President on the implementation of programmes in the region during Egypt's Chairmanship of the regional body. Secondly, to provide an update on the state of preparedness for the upcoming 22nd COMESA Summit scheduled to take place on 8th June 2023 in Lusaka, Zambia.
The 22nd COMESA Summit will be preceded by the COMESA Business Forum on 7th June 2023 and the Meeting of the Ministers of Foreign Affairs on 6th June 2023. The Summit will be held under the theme, "Economic Integration for a thriving COMESA anchored on Green Investment, Value Addition and Tourism".
President El-Sisi and the Secretary General agreed on continuous consultations and intensive engagements during the coming period to ensure the smooth handover of the COMESA Chairmanship to the incoming Chair, the President of the Republic of Zambia. The handover will be conducted at the Summit.