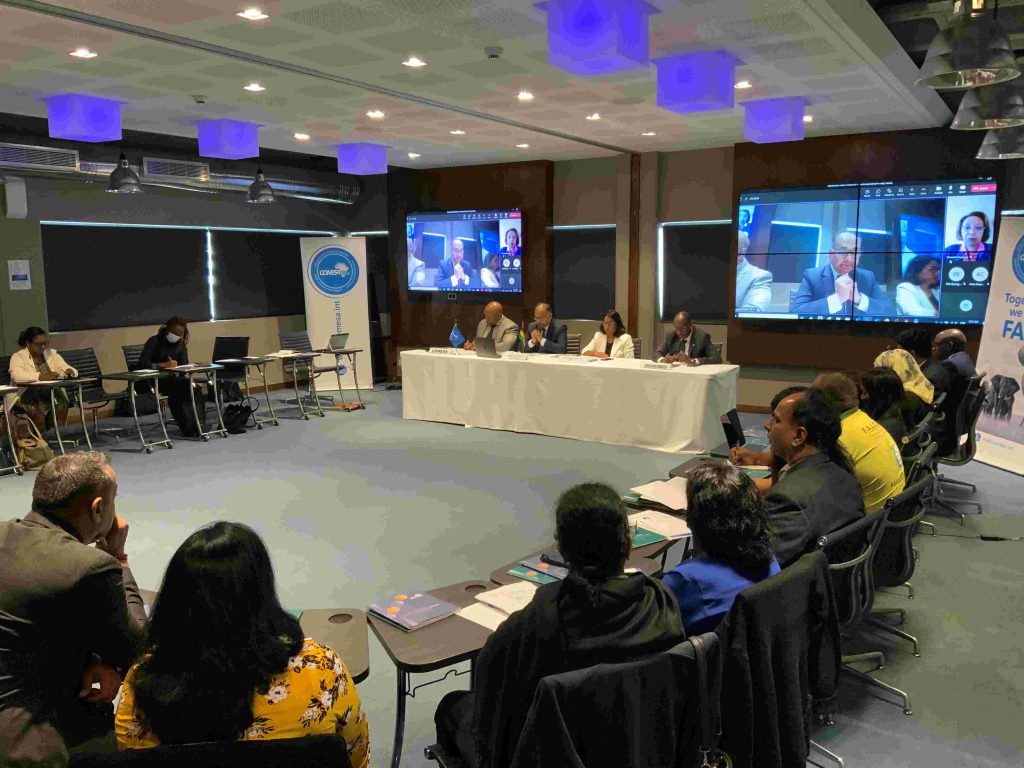 National consultations on the COMESA Early Warning System (COMWARN) Structural Vulnerability Assessments Methodology (SVAs) got underway in Mauritius on 6 July 2022 involving government and key stakeholders.
The three days consultations held in Port Louis aim at developing an early warning system based on structural data. These reports provide Member States with the projected structural drivers of the COMESA Peace and Prosperity Index (CPPI).
The forum will build the capacity of all the relevant national stakeholders on COMWARN, provide them with the opportunity to interact with the COMWARN SVA model and enhance ownership.
Stakeholders will be taken through the COMWARN SVA model to understand how indicator profiles are created, analysed and how the regional and country specific CPPI forecasts are made. Further, they will learn how to interpret the CPPI forecasted drivers, and this will enhance demand for such forecasts leading to greater ownership at national level.
Speaking at the opening of the meeting, the Minister of Foreign Affairs, Regional Integration and International Trade Mr. Alan Ganoo said regional peace and security are vital for a successful regional integration.
"Our government is committed to working closely with COMESA and the African Union to explore the structural vulnerability structures that are inherent to our country as a small Island developing State and ensure the successful use of the COMWARN SVA methodology," he said.
He added that the maintenance of regional peace and security are prerequisites to sustainable socio-economic development.
COMESA Assistant Secretary General in charge of Programmes, Ambassador Kipyego Cheluget urged the participants to fully engage and understand the SVAs and the important role they play in fostering peace in the region.
"These consultations will serve as an opportunity to continuously validate the SVA methodology, the CPPI forecasts for targeted Member States as well as develop possible response structures and feedback mechanisms for the SVAs," said Amb. Cheluget.
The forum which was organized by COMESA Secretariat through the Governance, Peace and Security Unit, provided both COMESA and the African Union the opportunity to commence the process of establishing early response structures in Mauritius.
Ultimately, the participants are expected to collectively and jointly develop appropriate structures that will prompt the establishment of national and regional early response mechanisms. Through the participation of civil society and private sector organizations, the interaction will increase the chances for future implementation of SVAs at the grass-root level.