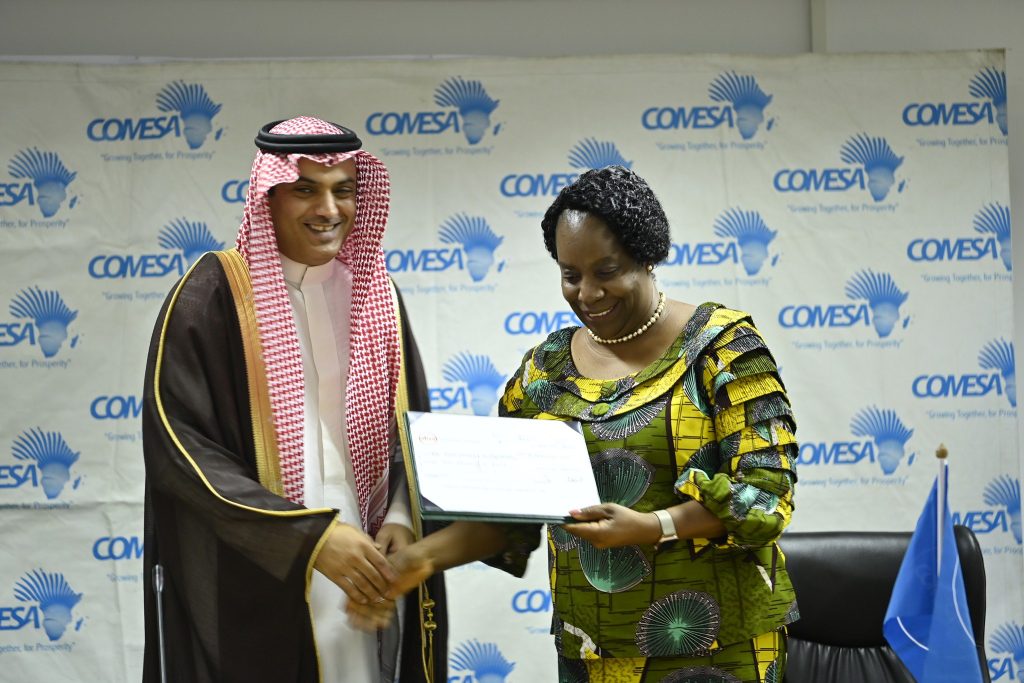 Lusaka, Monday, 24 July 2023 – The Government of Saudi Arabia has donated USD$2m towards the construction of a new headquarters for COMESA in Lusaka, Zambia. Saudi Ambassador to Zambia H.E. Ali Saad Alkahtani, presented the cheque to COMESA Secretary General Chileshe Mpundu Kapwepwe at the COMESA Secretariat in Lusaka on Monday 24 July 2023.
Amb. Alkahtani, said the motivation to support the construction of the new COMESA headquarters stems from the strong relations that exist between the Kingdom and the COMESA bloc based on mutual respect and joint action in all fields.
It also comes as an affirmation of the Kingdom's support for efforts being undertaken by COMESA to achieve its goals which include strengthening relations among the Member States, promoting trade, encouraging peace, stability and promoting economic development.
"I would like to stress that the Kingdom will continue to work with its partners to support everything that promotes development and prosperity in African countries," said Amb. Alkahtani.
Secretary General Kapwepwe welcomed and support noting that the donation was timely as the Secretariat embarks on a full-fledged resource mobilization effort to raise funding for the construction of the COMESA Headquarters which is projected to cost USD 35m.
The decision to construct a new Headquarters was made by the COMESA Heads of State and Government several years ago. Since then, the Secretariat has been exploring possible financing options.
"So today, the contribution by the Kingdom of Saudi of Arabia is significant, as it puts us a step closer to the beginning in earnest of the construction of the new Headquarters," said Ms Kapwepwe.
She added that the plot of land, on which the construction of the new Headquarters will be made, was provided by the Government of Zambia. It measures 10 acres and can accommodate the Headquarters and additional projects.
The current Headquarters, which is based in downtown Lusaka, was purchased in 1997 when the Secretariat was still small.
Link to Pictures:
Link to Video:
Corporate Communications
COMESA Secretariat
Email: pr@comesa.int
Download "Press-Release-Saudi-Arabia-Provides-US2m-Support-to-COMESA-edited.docx"

Press-Release-Saudi-Arabia-Provides-US2m-Support-to-COMESA-edited.docx – Downloaded 131 times – 75.75 KB
This post is also available in: العربية (Arabic) Français (French)