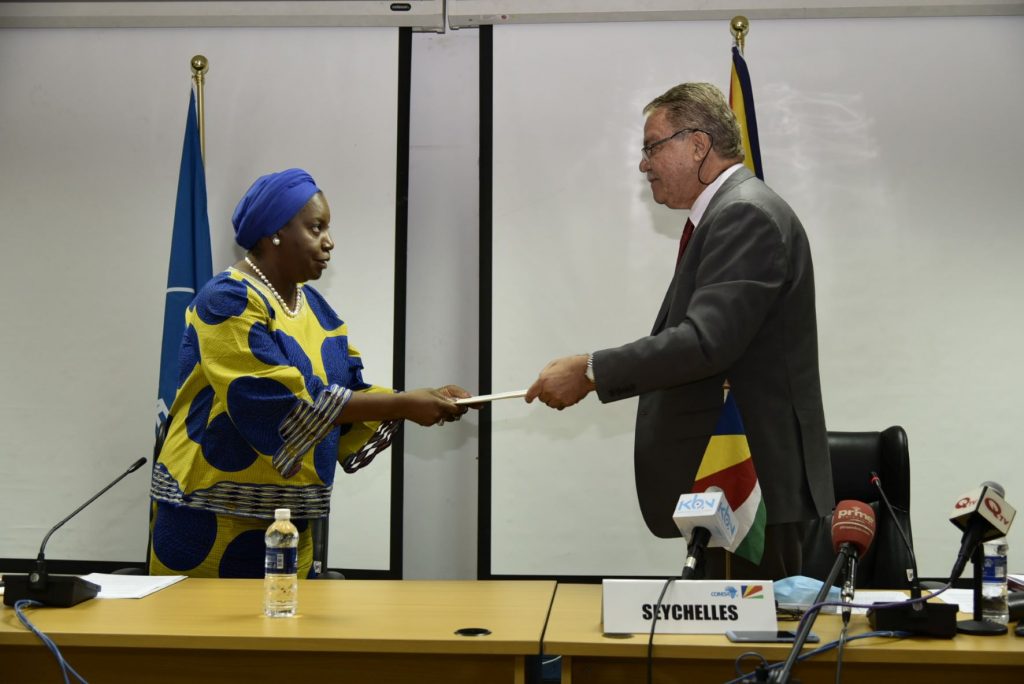 Lusaka, Friday, May 06, 2022: Seychelles has appointed a Permanent Representative to the Common Market for Eastern and Southern Africa (COMESA). His Excellency Claude Morel, High Commissioner of Seychelles to South Africa presented his letter of Credence to Secretary General, Chileshe Kapwepwe at the COMESA headquarters in Lusaka, Friday, 6 May 2022.
During the event, Ms Kapwepwe commended Seychelles for its commitment to COMESA over the years. She noted that the country has remained an active participant in various regional integration programmes in trade and customs, gender and social affairs, climate change and the agriculture and industry sector.
Specifically, the exports from Seychelles have continued to grow steadily with a 15.8% increase recorded in 2020 from USD 985m to USD 1,586 million despite the negative impact of COVID-19 on the tourism sector. However, there is room to expand Seychelles' share of intra-COMESA exports which remain minimal.
Seychelles is active in Trade in Services negotiations and is among the Member States that have submitted draft offers in five priority areas namely communication, finance, tourism, transport, construction, and energy related services among others.
Ambassador Morel noted that COMESA has been effective in its approach to mitigating the impacts of the COVID-19 crisis whilst formulating a pathway toward recovery by means of capacity building, digitalization and targeted support.
He added that digitalization, facilitation of information exchanges and being available to support the business community wishing to conduct intra-regional and international trade have proven essential tools against the COVID-19 pandemic.
"Seychelles is convinced that COMESA's efforts in the implementation of the African Continental Free Trade Agreement will enable swift economic recovery and improve intra-Africa trade. The importance of consolidating the nexus between COMESA's and AfCFTA agendas cannot be overstated," he said.
He identified the Regional Integration Support Programme, the Regional Integration Support Mechanism, the Regional Maritime Support Programme, the Technical Assistance Facility and Climate Change programmes as being of great interest to his country.
In August 2021, SG Kapwepwe led a COMESA delegation to Seychelles where they met President Wavel Ramkalawan, held meetings with different Ministers and officiated at the launch of the COMESA Federation of Women in Business (COMFWB) National Chapter.
Ends.