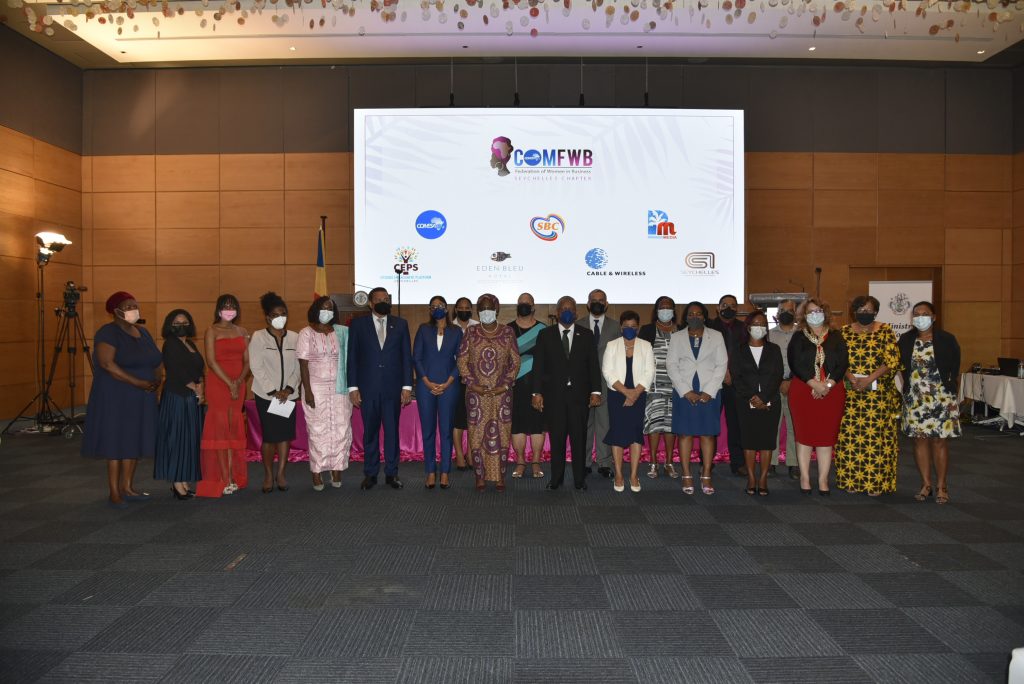 The Government of Seychelles has launched the COMESA Federation of Women in Business (COMFWB) National Chapter. The office hosted at the Seychelles Investment Board (SIB) under the umbrella of the Ministry of Investment, Entrepreneurship and Industry is expected to promote programmes that integrate women into trade and development in the region.
The National Chapter was officially launched by Republican President Wavel Ramkalawan at a colourful event at Eden Blue Hotel in the Capital Victoria Mahe. He immediately commended COMESA for all efforts geared towards supporting the economic development and empowerment of women which ultimately contributes to the country's economic growth.
"We salute the remarkable work being done by COMFWB and wish the Seychelles Chapter all the very best as they take on this journey to support government in achieving goals of promoting industrialisation and entrepreneurship specifically at Micro Small and Medium Enterprises,"
Speaking at the same event, COMFWB Chairperson Ms Maureen Sumbwe said women play a critical role in the economic development of Member States through entrepreneurial activities, wealth and employment creation.
'I have no doubt in my mind that for our regional economic integration agenda to be achieved, we must ensure that women are equipped with the necessary resources, skills and opportunities to start and grow their business. This Chapter is here to work on those areas," Mrs Sumbwe said.
Secretary General Chileshe Kapwepwe added that COMESA Member States agree that women make significant contribution towards the process of socio-economic transformation and sustainable growth.
"It is good that Member States acknowledge that, it would be impossible to implement effective programmes without the full participation of women," Ms Kapwepwe noted.
To this end, the Secretariat is implementing activities which galvanise support for public policy reforms and private sector actions that promote women's entrepreneurship across the COMESA region.
Other keynote speakers at the vent included the Ministers of Investment, Entrepreneurship and Industry Hon. Mrs Devika Vidot, Minister of Youth, Sports and Family Hon. Mrs Marie Celine-Zialor, the Governor of the Central Bank of Seychelles Ms Caroline Abel and the Chief Executive Officer of the Civil Society Platform Seychelles among others.
All the speakers mentioned the importance of including women in trade and development programmes and introduction programmes in skills development and easing access to finance. The use of digital platform was also highlighted as key for women entrepreneurs if they are to effectively contribute to economic growth.
Earlier in the week on 30 August, Seychelles launched the offices of the COMFWB National Chapter.