Benjamin Masila
Head - Information Resource Center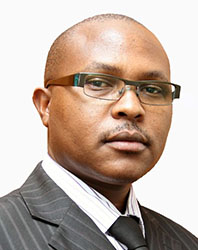 education & qualifications
Master of Science Information Science (Moi University)
Bachelor of Science – BSc.  Information Science (Moi University)
PGD. French Language – Alliance Français, Nairobi
postgraduate certifications:
Database Programming
Digital Librarianship –(INASP)
Management and Operations of modern Libraries
Automated Project Management
Gender and trade – (UNCTAD Online)
Training in US Peace Corps (US Peace Corps Nairobi chapter)
previous work experience
 Chief Librarian at the Africa Economic Research Consortium, an Economic policy think tank in Sub-Saharan Africa – Nairobi Secretariat
Bibliothécaire en Chef- L'institute Francais de Recherche en Afrique (IFRA)- Embassy of France, Nairobi
Systems Librarian at the Africa Nazarene University, Nairobi
Assistant Librarian at the Family Health Options, Nairobi
membership to professional bodies
Kenya Library Association
Kenya Library and Information Workers Association
Network of Information Professionals
Zambia Library and Information Association
Mr. Masila has been with COMESA since 2014 and has extensive work experience spanning 17 years in managing knowledge and information resources in Non-Governmental organizations as well as in research and academic institutions. He has extensive hands on experience in digital knowledge & Information management, Information Searching & retrieval, Knowledge sharing and information dissemination. Besides, he possesses skills in records management and Archives administration.
Research Publications:
Knowledge management in nongovernmental organizations: A case study of African Economic Research Consortium, Nairobi Secretariat March 2016, Moi University
Enhancing research information through dissemination and sharing Nov 2017. Journal of Knowledge Management