Dr. Alick Mhizha
Chief - Conference Services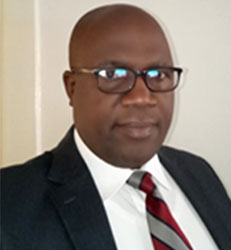 work experience
University of Zimbabwe 16 years progressive employment
Tourism and Hospitality Management Lecturer
Corporate and NGO professional training projects coordinato
Corporate events and exhibitions coordinator
Deputy Dean, Faculty of Commerce
education
PhD Commerce: Strategic Management in Small and Medium Scale Businesses (2014)

MSc: Tourism & Hospitality Management (2002)

MA: French, Socio-cultural Anhtropology & Linguistics (1999)
BA: French & Portuguese (Linguistics and Socio-cultural Anhtropology (1994)
Dr. Alick Mhizha is the Chief – Conference services having joined COMESA in June 2016. Dr. Mhizha is responsible for planning, organisation and service of COMESA conferences, meetings, seminars, and workshops. He draws up the annual calendar of meetings; Involved in the recruitment of conference interpreters and translators; Works out the logistics of organising conferences; budgeting; Supervision of writing, processing and distribution of documents and reports to the member States; and the reproduction and keeping custody of documents and official records of meetings.
Dr Mhizha also ensures that translation and interpretation services are provided in a very satisfactory manner to all meetings and conferences of COMESA by identifying qualified and experienced interpreters and translators for meetings.
Dr. Mhizha is also incharge of the reproduction, electronic archiving and distribution of documents before and during conferences and meetings of COMESA.
Publications
Alick Mhizha (2015) Strategic Management Practices and Challenges, the Case of Small and Medium Scale Enterprises in Harare, Zimbabwe, GRIN Publishing, ISBN: 9783656949817.
Alick Mhizha (June 2014) A Review of Stakeholder Efforts to Support Small and Medium Scale Businesses in Zimbabwe. International Journal of Applied Research and Studies ISSN: 2278-9480 Volume 3, Issue 6 (June – 2014) ijars.in
Alick Mhizha (June 2014) The 'Chameleon Survival Strategy Model': An Approach to the Study of Strategic Management in Small and Medium-scale Enterprises International Journal of Applied Research and Studies (iJARS) ISSN: 2278-9480 Volume 3, Issue 6 (June – 2014) ijars.in
Alick Mhizha (June 2014) Application of the 'Chameleon Survival Strategy Model' in the Study of Strategic Management in Small and Medium-Scale Enterprises, International Journal of Innovative Research and Development ISSN 2278 – 0211 ijird.com
Alick Mhizha, Golden Mandebvu, Noel Muzondo and Shepherd Nyaruwata (June 2013) An Evaluation of the Value Addition Associated with Exhibiting at Sanganai / Hlanganani World Travel And tourism Africa Fair in Harare, Zimbabwe. International Journal of Physical and Social Sciences http://www.ijmra.us, ISSN: 2249-5894
Shepherd Nyaruwata, Alick Mhizha, Golden Mandebvu(2013) Impact of Political Instability on Tourism Development: A Comparative Analysis of Mauritius and Zimbabwe since Independence,  The Journal of Tourism and Peace Research, 3(2), 2013, pp. 43-56 http://www.icptr.com/index.php/topics/issues/, ISSN 1878-7754
Alick Mhizha, Golden Mandebvu and Noel Muzondo (January 2012) The Impact of Tourism on Culture: Empirical Evidence from Victoria Falls. International Journal of Marketing and Technology (ISSN: 2249-1058)