Thierry Mutombo
Director - Industry & Agriculture Division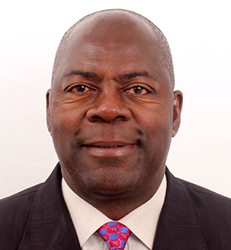 areas of expertise
Comprehensive Africa Agriculture Development Programme (CAADP)
Customs Regulations
Investment Policy and International Investment Agreements (IIA)
Inland Tax Regime
Law Practice
Audit
Sustainable Industrial development
Value chains development
education
Master's Degree in Economic Law
Master's Degree in Economy and Development
Mr. Thierry Mutombo is the Director of Industry and Agriculture; and responsible for Investment & Private Sector Development at the COMESA Secretariat.
Mr. Mutombo has a Master's Degree in Economic Law and a Master's Degree in Economy and Development. He started his carrier as a Lawyer in 1988.
Before joining COMESA, he worked as a State Auditor for 15 years, Investment Promotion Manager in the DR Congo and appointed Permanent Secretary at the Ministry of Finance. He worked as a consultant with World Bank, OECD, AfDB and SADC.
He has been a resource person for International Institute for Sustainable Development (IISD), United Nations Economic Commission for Africa (ECA), African Union Commission, UNIDO and UNCTAD on various capacities including international investment rules and FDI statistics, Sustainable industrialization and Comprehensive Africa Agriculture Development Programme (CAADP).
He has served as chair or as a speaker during events on IIA regime organized by UNCTAD, University of Columbia, and International Centre for Settlement of Investment Dispute (ICSID); and collaborates with those institutions on sustainable Investment. He facilitates trainings of investment experts in the area of international investment regime  and responsible investment in agriculture.
Mr. Thierry is currently driving the value chains development in agro-processing . He also represents COMESA at East African Community (EAC ) and  Indian Ocean Commission (IOC) at ACP-EU Private sector Development pillar since 2017.
He works with law firms in investment arbitration matters and has been a team leader of the African Union (AU) investment expert's meetings on the Pan African Investment Code.  He also works closely with the ACP-EU Business Climate Facility and the International Finance Corporation (IFC)/World Bank Group on the ease of doing business program in Southern and Eastern Africa.
At the Secretariat, Mr. Thierry is driving the COMESA industrial policy and strategy, the implementation of the Agriculture development including the comprehensive Africa Agriculture Development Programme (CAADP), the private sector development, particularly the value-chains and agribusiness, the COMESA Common Investment Area.