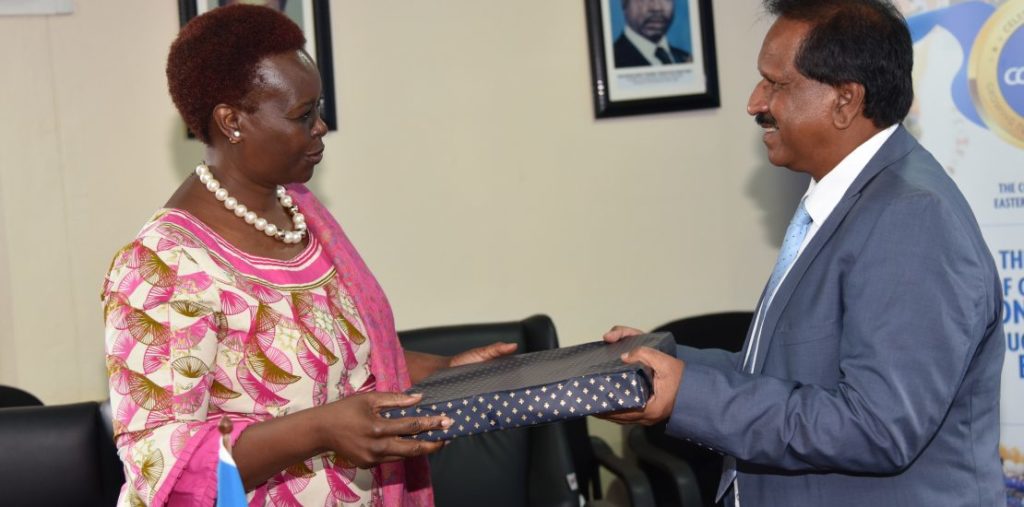 The ambassadors from the Republic of Sudan and Zimbabwe to Zambia and Permanent Representatives to COMESA their Excellencies Hussein Awad Ali and Getrude Takawira have bade farewell to COMESA Secretariat as their tour of duty has come to an end.
Secretary General Chileshe Mpundu Kapwepwe held a brief ceremony at the Secretariat on Tuesday 14 January to appreciate the good working relations that exist between the two ambassadors and the Secretariat.
Ms Kapwepwe, who was represented by the Assistant Secretary General Administration and Finance, Dr Dev Haman described the two diplomats as champions of regional integration. She added that the organization has greatly benefitted from the wise counsel and guidance from both diplomats in the past years that they have been serving in Lusaka.
"I will always remember our great collaboration, our joint actions and the strong ties that, I must admit have connected us," Ms Kapwepwe said.
Both envoys thanked the Secretary General and staff at the Secretariat for their commitment and hard work in pushing the COMESA agenda across the 21 Member bloc.
His Excellency Ambassador Hussein Awad Ali said the bloc has continued to grow because of the dedication of the staff led by the Secretary General. He pledged to remain a champion of regional integration as spearheaded by COMESA.
Her Excellency Ambassador Gertrude Takawira said the region has common challenges and therefore needed solutions that cut across. She reiterated Zimbabwe's commitment and support to COMESA.
The outgoing ambassadors were presented with gifts from the Secretary General.
Ambassador Takawira has served in Lusaka for five years while Ambassador Ali was deployed in 2016.