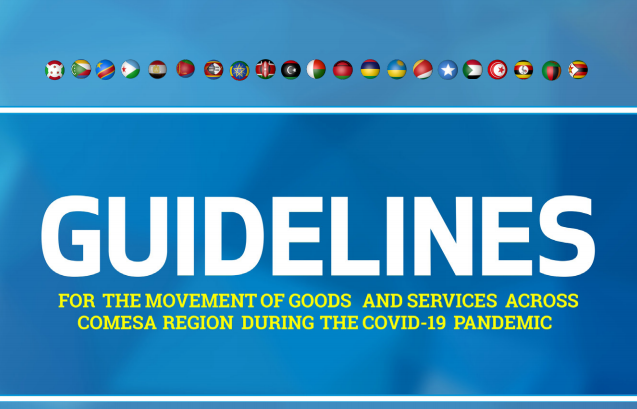 There is need for establishment of a public-private border management consultative committee to foster dialogue, collaboration and awareness on new regulatory requirements and response mechanism. This will provide a framework for continued intra-regional trade during the COVID-19 Pandemic.
This was part of the recommendations that emerged from virtual a virtual meeting with regional stakeholders from the public and private sectors to discuss the ongoing implementation of the COMESA regional guidelines for movements of essential goods and supplies across the region.
The forum which was hosted by the COMESA Business Council, last week, was convened to take stock of the implementation of the COMESA regional guidelines, two months since they were introduced, in May this year.
Participants  noted that whilst the focus has been on essential goods relating to food, beverages and health, there was need to consider all goods as essential to livelihoods and health of regional economies. They urged governments to provide exceptions to facilitate the movement of other goods/ services of high economic significance not covered under essential goods.
Discussions focused on the varied levels of implementation including bilateral, tripartite and continental approaches and the experience of the private sector in moving their goods across the region. Key challenges  discussed were testing requirements  and quarantining of truck drivers, relay systems, inadequate information on the Covid-19 response measures, lack of consistency on classification of essential goods, delays and other restrictions
Digital Trade Facilitation
Other recommendations made were to increase private sector investment for industrial development and infrastructure to improve border efficiency through digital trade facilitation (e-trade and e-logistics). They also emphasized the need for governments to increase investment in local manufacturing hubs and production capacities to strengthen alternative sourcing and regional value chains in Africa.
Participants  underlined the importance of maintaining safe trade through application of health and safety measures while balancing trade and trade facilitation and called on COMESA to support SMEs through stimulus packages, access to markets, and among other interventions.
The panelists included Mr. Ian Hirschfeld, Head of Public Policy for Coca-Cola Southern and Eastern, Mrs. Temitope Iluyemi Director Global Government Relations for Africa, Procter & Gamble, Mr. Mike Fitzmaurice Executive Director, Federation of East and Southern African Road Transport Associations (FESARTA) and Mr. William Ojonyo, Board Member and Member of the COVID-19 Taskforce, Federation of East African Freight Forwarders Associations (FEAFFA).
The public sector was represented by Zambia's Permanent Secretary in the Ministry of Commerce, Trade and Industry Mr. Mushuma Mulenga and the COMESA Director of Trade and Customs, Dr. Christopher Onyango.  CBC Chief Executive Officer Ms. Sandra Uwera moderated the discussion.