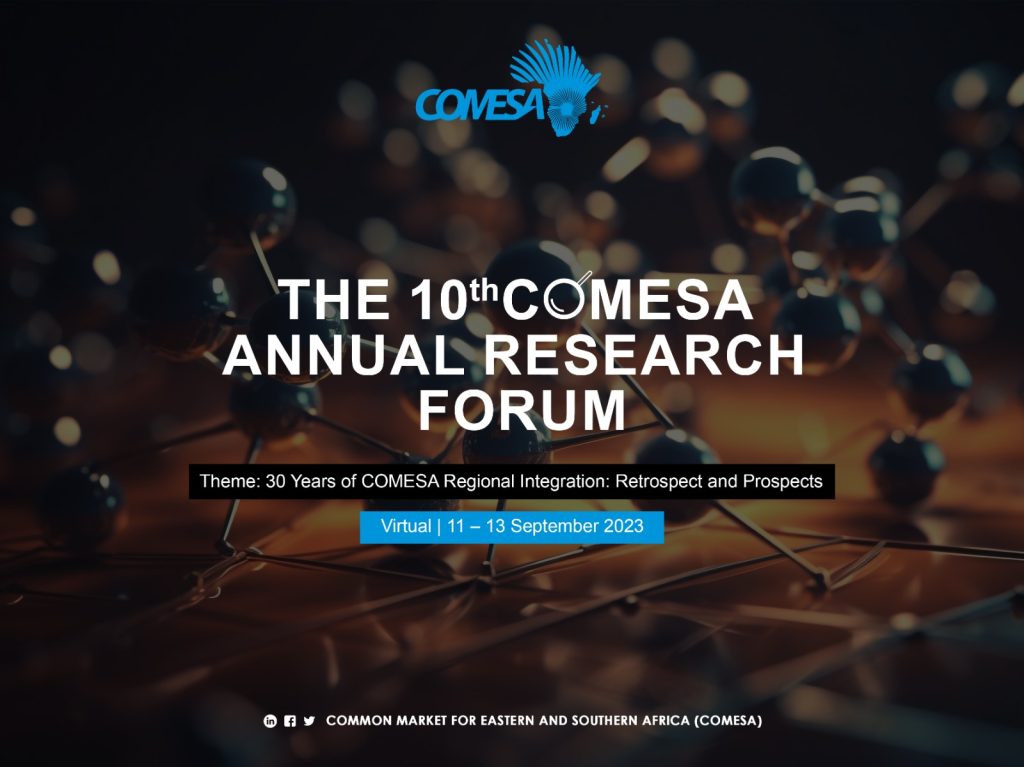 Lusaka, Monday, 11 September 2023: The 10th edition of the COMESA Annual Research Forum began today, bringing together policy makers, academia, think tanks and the private sector to discuss emerging topical issues in regional integration.
The event is part of capacity building initiatives in economic and trade policy research and analysis to strengthen integration and trade in COMESA region and the African continent. It is intended to narrow the gap between academia, private sector and policy makers in economic integration and regional trade policy formulation process.
A total of eight research papers which has been prepared by researchers from across the African region will be presented at the two-day forum themed: "30 Years of COMESA Regional Integration: Retrospect and Prospects".
Key topics in focus include the role of the COMESA Free Trade Area in promoting trade efficiency, Value added production and market linkages in COMESA and the Nexus between trade, trade policy and climate change adaptability. Others are the role of transport (road, rail, air and maritime) and intra-COMESA trade; Digitalization and small-scale enterprises/ cross border trade in COMESA and Emerging trends in circular economy in COMESA.
The policy implications from the papers are presented to COMESA policy organs and form the basis for various policy decisions.
Speaking at the opening of the forum, Secretary General of COMESA, Chileshe Kapwepwe, described it as one of the key avenues through which COMESA Secretariat harnesses knowledge and policy insights from eminent scholars, researchers, academics, and policy makers.
As the regional bloc approaches its 30th anniversary, next year, she said it is important to take stock of its regional integration journey, its achievements, its challenges, and the prospects for promotion of further regional economic integration as an instrument for sustainable economic growth and development.
She cited the growth of intra-COMESA exports from US$1.5 billion in 2000 to US$12.8 billion in 2021 as part of the significant achievements under the free trade area regime.
"Despite this growth, intra-COMESA exports remain low at about nine percent of its total exports. Recent studies indicate that inter-COMESA export potential is in excess of US$100 billion," she noted.
She added that a lot more work, including research was required to unlock the potential and enable Member States to better utilize the preferences embedded in the Free Trade Area regime.
Some of the constraints hindering exploitation of the export potential include weak productive capacities, poor infrastructure connectivity, high transport costs, non or slow implementation of COMESA free trade agreement, non-tariff barriers, and trading in similar products.
Assistant Secretary General of COMESA in charge of programmes, Dr Mohamed Kadah, assured the participants that the outputs of the two-day forum would be integrated in planning for regional integration programmes to be implemented.
Speaking at the forum the Executive Secretary of the African Capacity Building Foundation (ACBF), Mr. Mamadou Biteye applauded COMESA for maintaining the research since it was initiated in 2014 with funding from his organization. He underscored his organization's commitment to continue the supporting capacity building.
Other organizations that have supported the research forum include the African, Caribbean and Pacific States (OACPS) and the European Union.