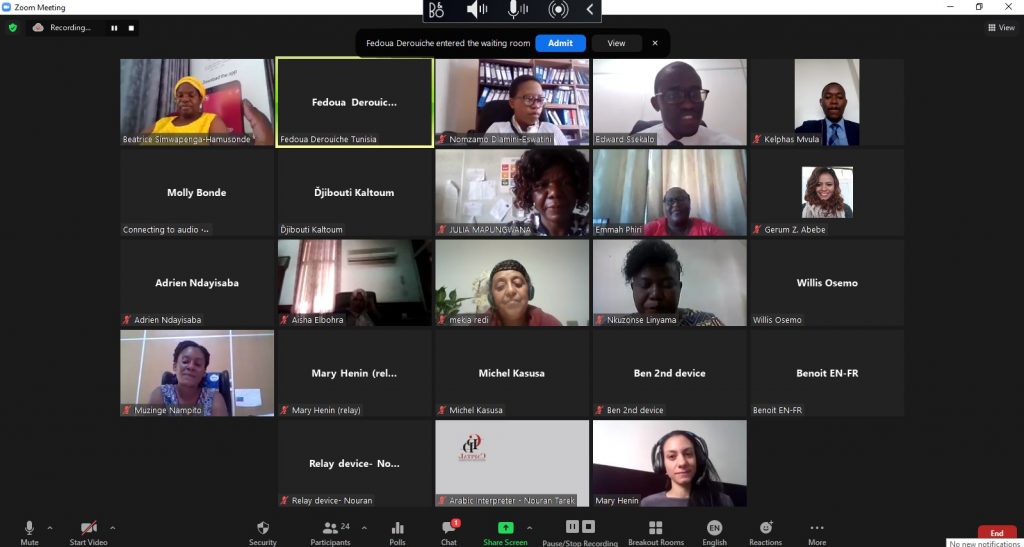 The 50 Million African Women Speak Project (50MAWSP) national focal points (NFPs) met Monday 6 December to review progress on the implementation of the initiative in the COMESA Member States. NFPs from 13 Member States attended the meeting, out of the 16 Member States where COMESA has launched the initiative.
The one-day meeting provided the Member States and the COMESA Secretariat an opportunity to share updates on activities which have been undertaken, share experiences, and provide feedback.
Opening the meeting, the COMESA Director for Gender and Social Affairs, Mrs Beatrice Hamusonde thanked the NFPs for their dedication to working on the platform, and challenged them to make sure it grows and succeeds.
"50 Million African Women Speak is a critical intervention for the transformation of women in our region and the African continent as a whole. During the recent COMESA Summit of Heads of State held on 23 November in Egypt, 50 Million African Women Speak received resounding endorsement from the highest COMESA Organ as a viable vehicle to empower our women economically.

"When this stamp of approval comes from such a high office, we as the primary drivers of the platform are left with no option but to make sure it works." Mrs Hamusonde said.
The Director informed the delegates, who were meeting for the second time this year, that one of the recommendations they had made at their meeting in March to include SMS-based registration on the platform had been effected, making the platform more friendly for users who do not have access to email. She added that various other platform enhancements were under development.
During the same meeting, Libya was officially welcomed to the NFPs' forum, which was also attended by Djibouti, Democratic Republic of Congo, Egypt, Ethiopia, Eswatini, Madagascar, Malawi, Mauritius, Sudan, Tunisia, Zambia and Zimbabwe.
The 50 Million African Women Speak initiative is jointly implemented by COMESA as the lead agency, the East African Community (EAC) and the Economic Community of West African States (ECOWAS). Under the Project COMESA is directly responsible for 17 of its 21 Member States, with four Member States (Burundi, Kenya, Rwanda and Uganda) under EAC.