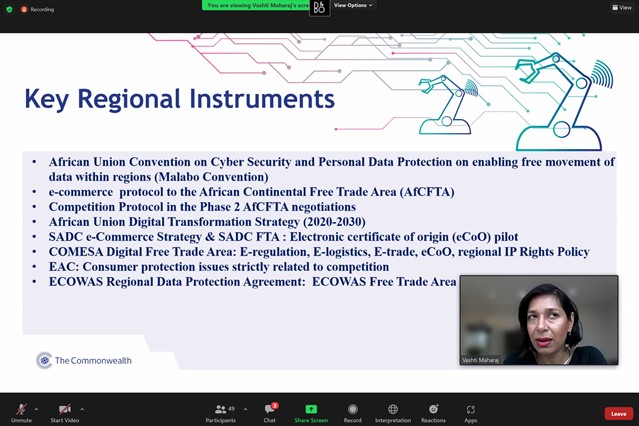 Implementing digital trade facilitation reforms have positive impacts on intra-COMESA exports. It is estimated that an increase of 10 percent in the adoption of digital trade technologies would result in a 5.5 percent increase in intra-COMESA exports.
The regional organization is therefore scaling-up the Free Trade Area (FTA) to a Digital Free Trade Area (DFTA), to empower traders to apply ICT tools particularly on cross border trade. This will not only enhance efficiency but also cut costs and minimize physical-related barriers to trade.
Pursuant to this objective, COMESA and the Commonwealth Secretariat partnered to host a training on digital trade on 25 – 27 April 2022 to build the necessary capacity within the region on how thrive in a fully digitally enabled trading system. The training targeted policy makers, trade officials and technocrats as well as legal reform officers involved in the digital trade process.
The training covered, among other topics, paperless trade facilitation, removal of barriers to facilitate digital trade in services sectors, creating an enabling regulatory environment for trade in services with a special focus on digital trade, developing services specific regulatory frameworks/leveraging FTA chapters for different services sectors.
The COMESA DFTA was adopted by the Council of Ministers way back in 2018 and constitutes three thrusts, namely eTrade, eLogistics and eLegislation. These are implemented through instruments such as the Electronic Certificate of Origin (eCO), development of the COMESA Online Trade Portal, and the Electronic Single Window system.
However, there has been a slow pace in the implementation of the DFTA instruments despite their potential to improve business performance in order to create the much-needed jobs in the COMESA region amid the devastating effects of the COVID-19 pandemic.
"One of the important lessons from the experiences of the COVID-19 pandemic is that as digital trade becomes increasingly critical in enhancing transactions and accessing markets globally, those lacking the ability to trade digitally risk falling further behind, economically," COMESA Director of Trade, Dr Christopher Onyango noted when he addressed the participants.
He added that less digitalized countries are at a disadvantage in leveraging on e-commerce. They are also less able to benefit from the resilience of digitally deliverable services trade in response to internal/external shocks and therefore likely to experience more extreme declines in export earnings and economic growth.
In his remarks, the Director – Trade, Oceans and Natural Resources Division at the Commonwealth Secretariat, Mr Paulo Kautoke appreciated the collaboration with COMESA, in building resilient digital economies.