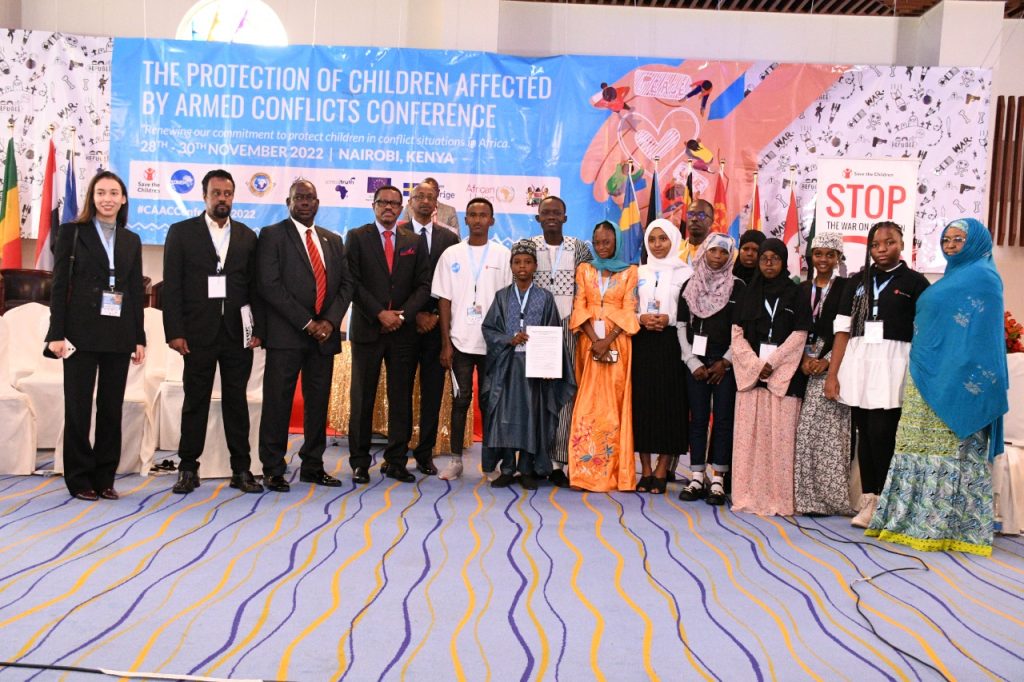 The Children Affected by Armed Conflict (CAAC) conference was a three-day event titled "the protection of children affected by armed conflicts conference 2022;" held from 28th to 30th November, 2022 at Nairobi, Kenya. It was organised by Save the Children International, and Common Market for East and Southern Africa (COMESA), with support from the government of Sweden and the European Union.
Children from Ethiopia, Mozambique, Nigeria, and Somalia represented their peers from across the continent, as part of the African Children's Parliament.
Child delegates expressed appreciation to the African Union Peace and Security Council for having made an important step to institutionalize child participation, when they committed to invite children to participate in two of their sessions annually. They also commended countries that have made efforts to create platforms for children to participate in decision making on issues affecting them.
The children shared about how conflict uniquely affects them and made recommendations on actions they want taken by duty bearers in order to learn, survive and be protected.
Armed conflict affects children in various ways outlined below:
Education: Direct attack on schools leading to injuries, abduction, children are afraid of going to school, state and non-state armed groups occupy learning spaces,
Displacement: Children find themselves in camps, become heads of household as many become unaccompanied and, in many cases, data is not available on children affected by conflict.
Health and safety services: children are killed, children lose their parents and become orphans, children are maimed, hunger increases, malnutrition, mental and psychological trauma, and in many cases, health services are inaccessible.
Gender dimension: Girls and boys are affected differently by armed conflict, girls suffer rape and other kinds of GBV (gender-based violence), harmful traditional practices, early and forced marriage, boys are recruited as child soldiers and both girls and boys suffer sexual violence, child labour.
Disability: the children highlighted the unique impact of conflicts on children living with disabilities who, in addition to all the challenges listed above, suffer discrimination and stigma.
Child Participation: Not all countries in Africa are giving children the opportunity for participation in issues affecting them, especially in armed conflict.
The children made the following recommendation:
Governments should prioritize resolving conflicts through dialogue before they end up as armed conflicts. This would prevent the recruitment of child soldiers.
Governments and duty bearers should create awareness on the impact of conflict on children and take actions to mitigate such.
African governments should endorse and implement the Safe Schools Declaration.
Governments should invest in rebuilding destroyed social services like schools, health care centers, and ensure inclusive education and education in emergencies.
Governments should invest in creating data bases of children on the move, children displaced, children in rural and urban areas to support accurate planning.
Governments should take legal action against people who are found guilty of violating the rights of children in armed conflict.
Governments should outlaw child marriage and ensure even in situations of armed conflict, it is prevented.
Children commended the African governments that have ratified various instruments like the United Nations Convention of on the Rights of the Child (UNCRC), African Charter on the Rights and Welfare of the Child (ACRWC). They called on the governments to urgently ensure their implementation.
In a conflict situation, actors should commit to ensuring continuity of services for children, especially health, nutrition, education, protection and ensure continuous access to humanitarian services;
AU should ensure that regional bodies like COMESA, ECOWAS, SADC, and countries adopt and institutionalize policies on meaningful participation of children in issues affecting them.
This year, the African Union Peace and Security Council made a commitment to have member states include the six grave violations in their education curricula and have them report on it. The children recommend that the AU fulfills this commitment.
This communique has been endorsed by children from:
Ethiopia
Mozambique
Nigeria
Somalia
Issued at NAIROBI, KENYA 28- 30 NOVEMBER 2022.