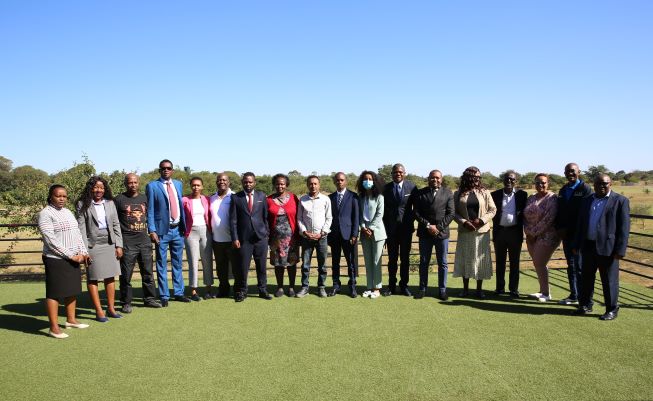 A  trade policy analysis training for five COMESA Member States that are not fully participating in the Free Trade Area (FTA) was conducted in Lusaka, Zambia 30 May – 3 June 2022. The training also known as the Tariff Reform Impact Simulation Tool (TRIST) was intended to build the capacity of the participants to undertake partial equilibrium analyses of trade and revenue implications of joining the COMESA FTA.
Through the training, participants will be able to apply TRIST skills to analyse trade and revenue implications of other trade policies and reforms. This includes understanding of the implication of joining the Tripartite Free Trade Area and the African Continental Free Trade Area (AfCFTA).
They were also trained to produce draft country reports on revenue and economic impacts of tariff liberalisation in selected non-full FTA participating Member States for which data would be available. Overall, it provided a platform for engagement with Member States while exploring strategies for addressing challenges towards joining the COMESA FTA.
COMESA launched the FTA in 2000 and so far, it has recorded an increase in intra-regional trade from US$1.5 billion to US$9.7 billion in 2020. This accounts for 10.7% of the region's total exports. These trade statistics do not include small-scale cross-border trade.
As a way of encouraging the non-FTA countries to join, the 42nd Council of Ministers Meeting held in November 2021 directed the Secretariat to engage them with a view of establishing and resolving what could be hindering their participation. Hence, the TRIST training was one way to help these Member States to appreciate and join the FTA.
Currently, 16 out of 21 COMESA Member States are participating. These are Burundi, Comoros, Djibouti, Egypt, Kenya, Libya, Madagascar, Malawi, Mauritius, Rwanda, Seychelles, Tunisia, Sudan, Uganda, Zambia and Zimbabwe. Other COMESA Member States; Democratic Republic of Congo, Eritrea, Eswatini, Ethiopia and Somalia are at various levels of joining the COMESA FTA.
Speaking at the official opening of the training, Director of Infrastructure Mr Jean Baptiste Mutabazi said, COMESA Secretariat will continue to organise capacity building activities in trade and regional integration to address the existing knowledge gaps. This is expected to allay fears in some Member States regarding the issue of revenue and economic implications of the FTA.
"We hope that such trainings will translate into deeper regional integration policy decisions," said Mr Mutabazi who was representing the Assistant Secretary General for Programmes.
The training was supported by the European Union under the TradeCom II Capacity Building Project.