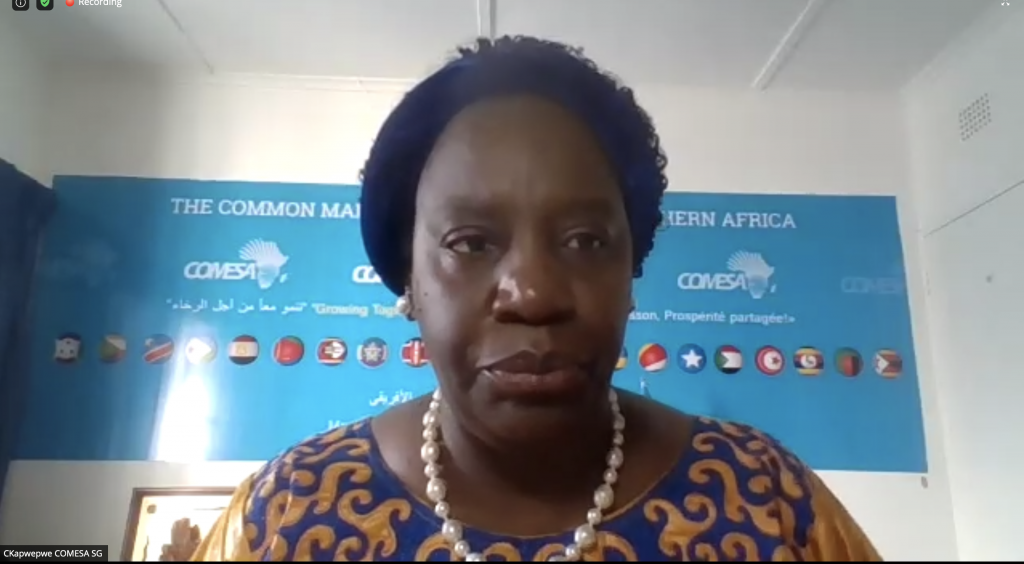 Zimbabwe became the third COMESA Member State to unveil the 50 Million African Women Speak (50MAWSP) platform in a colourful ceremony hosted in Harare on 3rd September 2020. The national launch of the platform was presided over by the Minister for Women Affairs, Community, Small and Medium Enterprises Development, Hon. Stembiso Gladys Nyoni. 
The event was held through a hybrid arrangement where a limited number of local participants gathered physically at the launch venue were joined virtually by several invited guests, with COMESA's high-profile participation led by Secretary General Chileshe Kapwepwe, Assistant Secretaries General Amb. Dr. Kipyego Cheluget and Dr. Dev Haman and FEMCOM Chief Executive Officer Ms Ruth Negash, among others. 
Chief Guest and Women Affairs Minister Hon. Nyoni commended COMESA for its support stating that it was "a bold acknowledgement of the critical role women play in Zimbabwe's economy." 
She observed that the 50MAWSP platform would allow women to connect across borders and create businesses online, adding that it would ultimately contribute significantly to the empowerment of women. 
Deliberate and meaningful assistance of women will help them to become viable entrepreneurs," Hon. Nyoni said in reference to the 50 Million African Women Speak initiative.

 
Secretary General Kapwepwe noted that the platform could not have come at a better time, as businesses are more seized than ever before of the need to move online. 
Existing and aspiring women entrepreneurs in Zimbabwe for whom traditional markets may be shut are looking for solutions, and the 50MAWSP platform is one such practical solution," the Secretary General said.

 
"Zimbabwean women will have an opportunity to create their own virtual market stalls where they can showcase their products all day long and all year round," she added, highlighting the fact that women who use the platform will not have to worry about restrictions imposed by COVID-19. 
Ms Kapwepwe thanked the funding partner, African Development Bank for the financial support which has made the 50 Million African Women Speak Project possible in 36 countries across the COMESA, EAC and ECOWAS regional blocs, as well as the Government of Zimbabwe for its support in implementing the initiative. She urged the government to devote the required resources to ensure its sustainability. 
The 50 Million African Women Speak platform aims to facilitate a dynamic and engaging exchange of ideas among women entrepreneurs, using in-built social media functionality to connect them with one another in ways that will foster peer-to-peer learning, mentoring and the sharing of information and knowledge within communities, and access to financial services and market opportunities between urban and rural areas, and across borders and between countries. 
Owing to the pandemic, national launch events of the platform will be held either virtually or as a hybrid of virtual and conventional launches. Before the launch in Zimbabwe two launches had been held in Zambia and Seychelles. Launch events in 12 other COMESA Member States are planned. The next launch is scheduled for 9 October 2020 in Madagascar.