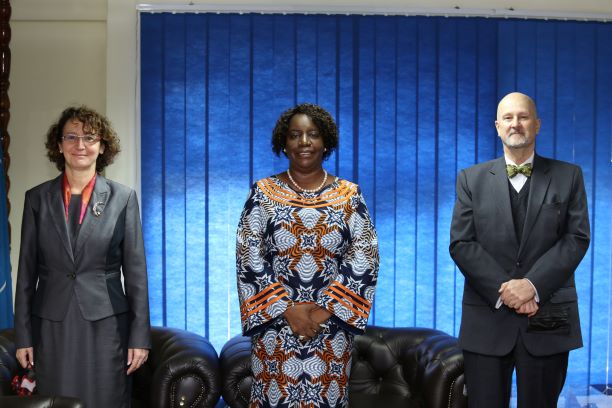 Lusaka, Monday, May 24, 2021: Brazil and Turkey have appointed their ambassadors to Zambia as Special Representatives to COMESA. H.E Arthur Henrique Villanova Nogueir (Brazil) and H.E Istem H.E Circiroglu from Turkey presented their letters of Credence to Secretary General Chileshe Mpundu Kapwepwe during a ceremony held in Lusaka on Monday 24 May 2021.
Both reaffirmed their governments commitment to support COMESA's regional integration agenda through continued cooperation in different programmes. Ambassador Nogueir said Brazil is following with great interest developments involving the African Continental Free Trade Agreement (AfCFTA), where COMESA has a special role given its institutional strength and experience in promoting free trade.
On its part, Brazil is committed to regional integration as a key member of the Merconsur, the Common Market for Southern America, which has been in existence for 30 years and has maintained a long and successful trajectory.  Hence Brazil is keen to forge closer relations between the two institutions through identified areas of cooperation.
Turkish Ambassador her country was committed to continue working with African countries and regional organisations such as COMESA to develop a win-win approach in commercial and economic relations.
"Our approach to African countries is built on a holistic, inclusive and equal partnership based on mutual respect and benefit," she said. "We continue to contribute to peace and stability and economic and social development in Africa through our public institutions, non-governmental organizations and the private sector."
Further she said that Turkey was the 5th country in the number of diplomatic missions in Africa and continues to promote African issues of Africa at the global level especially the continents focus on digitalization for sustainable development.
The official development aid provided by Turkey's public institutions to Africa between 2005 and 2019 is approximately US$3.5 billion.
Secretary General Kapwepwe said the two countries have remained important trading partners with the regional bloc.  COMESA's main export products to Brazil are mainly natural resources whereas the main imports are manufactured products.
In recent years, Brazil and Turkey have increased their presence in Africa through the south-south cooperation in areas such as agriculture, health, environment, livestock, industry, education, aid and humanitarian dimension.