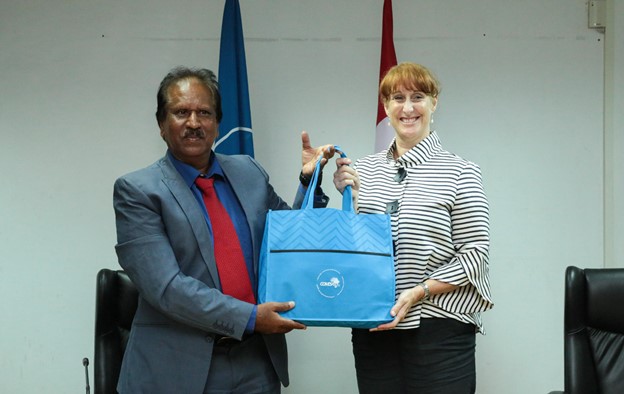 Canada's High Commissioner to Zambia and Tanzania who is also special Representative to COMESA, Pamela O'Donnell met the Assistant Secretaries General for Administration and Finance and for Programmes Dr Dev Haman and Dr Kipyego Cheluget on 15th March 2022, respectively.
In her maiden visit to the Secretariat, Ambassador O'Donnell was on a familiarization tour to learn about COMESA programmes and levels of implementation in the various Member States. This was in addition to having discussions on possible areas of collaboration.
The Canadian envoy indicated Canada's willingness to help the COMESA region in various sectors of development including agriculture and climate change mitigation, ICT, trade facilitation, renewable energy production and trade facilitation.
Ms O'Donnell said her country is committed to seeing economic development on the African continent further stating that development, economic growth, peace and security all go together as they bring stability in the economic space of a region and in turn improves the living standards of people.
"We as diplomats are tasked to promote democracy, peace and security, good governance, diversity and inclusion as a way of helping those vulnerable societies in many parts of the world,"
Dr. Dev Haman, who was acting Secretary General at the time, stated that COMESA is committed to being a highly competitive region in the global landscape though it was important to do a self-introspection regarding the factors that make it possible to succeed economically especially after the COVID pandemic.
"As a region we have been proactive and put in place measures that will mitigate loss of revenue and lives during pandemics like the COVID 19. To this effect Ministers of Health from the region shall soon convene a meeting were they shall discuss strategies that will cushion the impact of pandemics that may come in the future," Dr Haman added.