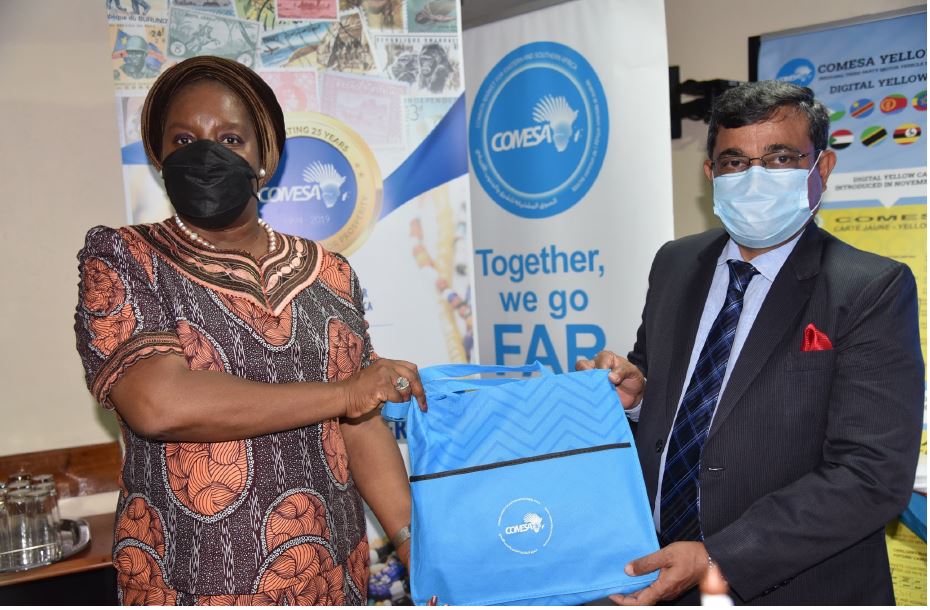 The Governments of India and Canada have expressed interest to enhance their level of collaboration and partnership with COMESA. Representatives of the two governments met the Secretary General (SG) and Assistant Secretaries General of COMESA separately in Lusaka and stressed the need for the organisation to re-establish cooperation agreements for the mutual benefit of all peoples in the respective region and countries.
India's High Commissioner to Zambia His Excellency Shri Ashok Kumar met the SG on 21 March 2022 at the Secretariat and revealed that his government is in the process of developing an action plan that will enhance collaboration with the COMESA region in the areas of industrial development, drugs and Pharmaceuticals, ICTs, energy trade, Small and Medium Enterprises (SMEs), Science and technology and Agriculture. The action plan will also mainly focus on capacity building in the 21 Member States.
He added that his government views COMESA as an all-weather friend and intends to intensify regular and sustainable engagements considering that India's development partnerships are to be guided by Africa's priorities so as to liberate the continent's potential and build local capacities while creating opportunities locally.
"We will continue to keep our markets open and make it easier and more attractive to trade with India and we shall also support investments in the COMESA region," Ambassador Kumar stated.
In her welcoming remarks, Secretary General Chileshe Mpundu Kapwepwe thanked India for extending her support to the COMESA region. The SG was however quick to point out that the Member States of COMESA need India to help develop smart infrastructure that will connect them to the seaports.
Ms Kapwepwe stated that India has the technical know-how on most sectors including energy, infrastructure and Telemedicine and thus the need for the country to assist the region in various sectors through knowledge transfer.
"We are looking forward to India helping build value chains in different sectors including aquaculture and help to create cross border value chains. We also need help in Agro-processing technology for our SMEs and start-ups because these are the engines of economic development," Madam Kapwepwe said.
The two agreed that once the Memorandum of Cooperation is renewed, COMESA and India will among other things conduct Joint market research aimed at supporting the SMEs. She however urged the High Commissioner to engage the COMESA Business council in order for the parties to develop business opportunities that will contribute to economic development of the COMESA region.
India's Trade with COMESA Member States was over USD10 billion in 2020 with India's exports amounting to USD7.9 billion while imports were pegged at USD2.5 billion.