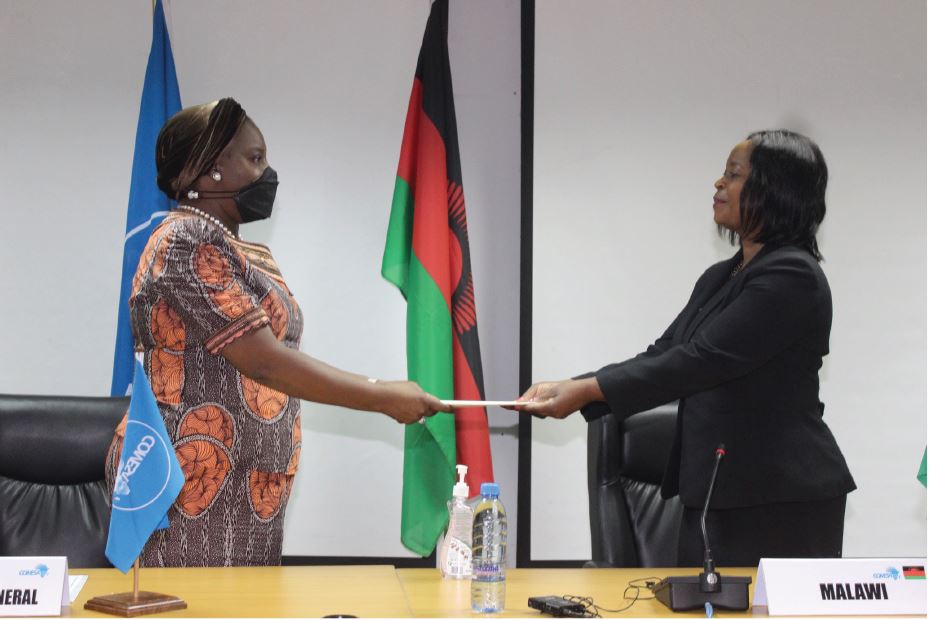 The Government of Malawi has renewed its commitment to regional integration as championed by COMESA. High Commissioner of Malawi to Zambia, Her Excellency Margaret Constance Kamoto states that Malawi has always believed in the ideals of COMESA and continues to positively contribute to the deepening of regional integration among the 21 Member States.
She was speaking at the COMESA Secretariat in Lusaka on 21 March 2022 when she was formally accredited as Permanent Representative. Secretary General (SG) Chileshe Kapwepwe received the Letter of Credence.
Ms Kamoto acknowledged the negative impact of COVID-19 on intra-regional trade and called for measures to cushion the impact on traders and businesses. She applauded COMESA Secretariat for its unwavering financial, technical and material support rendered towards Malawi's economic development agenda adding that with the finances received, the country has embarked on massive industrialization, investment and trade growth efforts but still needs support amid COVID-19 setbacks.
"The COVID-19 pandemic has proved to us that regional integration can play a critical role in meeting the supply and demand needs of goods and services in our region and its time that Member States take advantage of the situation by standing together to boost intra-African trade by producing goods and services which will benefit us," she added.
SG Kapwepwe congratulated the High Commissioner for joining the team of Permanent Representatives accredited to COMESA whom she described as conveyor belts between the regional trade bloc and Member States.
The two leaders discussed many areas of mutual interest including the need for Ratification of the Tripartite Free Trade Area (TFTA). SG Kapwepwe used the occasion to appeal to countries that have not ratified the TFTA, Malawi included, to do so soon so that it can be actualized.
Eleven countries have so far ratified the TFTA and only three more ratifications are needed before the Agreement enters into force.
"We urge Malawi to complete the ratification of the Tripartite Free Trade Area Agreement so that it enters into force and economic operators can then utilise the immense market opportunities offered. We will count on your support on this matter," Ms Kapwepwe said.
The TFTA is a deliberate strategy mooted by Africa's leading economic blocs-COMESA-EAC-SADC to strengthen their cause for economic growth through joint planning, design, coordination, and implementation of policies and programmes amongst themselves. Malawi signed the Tripartite Free Trade Area Agreement on 10th June 2015.