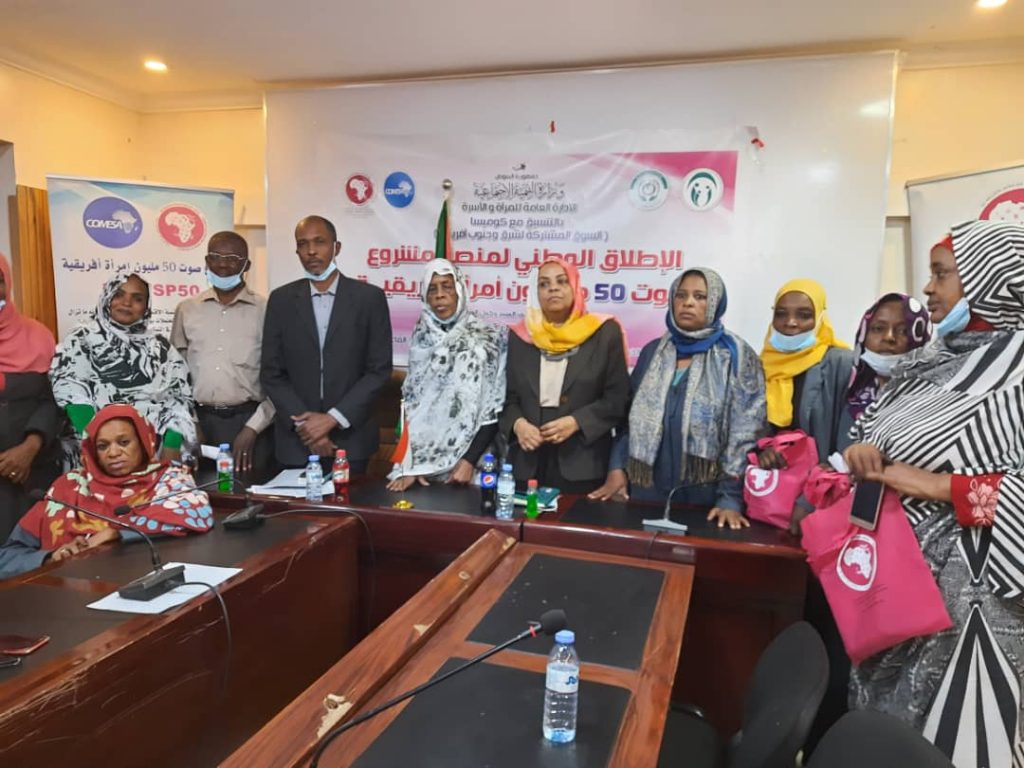 The platform will help Sudanese business women to connect with local regional markets and enhance their access to financial services
The Common Market for Eastern and Southern Africa (COMESA) in partnership with the Sudanese Government on Thursday 4 March launched a platform for women in business known as 50 Million African Women Speak (50MAWSP) in Khartoum, Sudan. The platform is an information and networking hub for women which provides a one-stop shop for them to start, grow and scale up their businesses and to access financial and non-financial services.
The 50MAWS platform offers a great opportunity for Sudanese women to get online and find new connections and create business opportunities that will help them mitigate the effects of the COVID-19 pandemic.
Presiding over the launch, the Undersecretary in the Ministry of Social Development in  Sudan, Mr Mohamed Elshabik expressed the country's commitment to harness technological capabilities to motivate women who are economically active to join the platform by introducing them to it, increasing training opportunities, building capacity and providing finance for them.
"The launch of the 50 Million African Women Speak Platform in Sudan is happening at a crucial time in the country's history, at a time when they are witnessing radical transformations in the march of women in Sudan after the victorious December revolution," Mr. Elshabik said.
The COMESA Assistant Secretary General in Charge of Programs Ambassador Dr. Kipyego Cheluget expressed his gratitude to Sudan for the support it has rendered to the 50 Million African Women Speak Project and acknowledged the hard work which has ensured the project's successful implementation.
Dr. Cheluget explained that it is imperative that Sudanese women are provided with assistance in overcoming the challenges that hinder their social and economic growth and development, saying:
"We are convinced that new technologies offer African women an opportunity to stake a claim in spheres which were previously male-dominated.

"By harnessing technology, the platform we are launching today will enable the sharing of experiences and success stories of women for the benefit of other women and show them that it can be done. We need to take every opportunity to offer practical solutions that can give them greater confidence to take on new opportunities."
The 50MAWS platform is jointly implemented by COMESA, the East African Community (EAC) and the Economic Community of West African States (ECOWAS). It is funded by the African Development Bank (AfDB) and enables women in 38 countries in the three regional blocs to find information on how to run businesses, where to access financial services, how to create business opportunities online and where to access training resources, among others.
The national launch event coincided with the rollout of a COMESA campaign named '30 days of women in business' which is promoting the platform over the next one month on radio and social media channels in the Member States where COMESA is implementing the 50 Million African Women Speak Project. These include: including Comoros, Djibouti, DR Congo, Egypt, Ethiopia, Eritrea, Eswatini, Madagascar, Malawi, Mauritius, Seychelles, Sudan, Tunisia, Zambia and Zimbabwe.
The campaign invites women to log onto the platform at www.womenconnect.org, or to download the 50MAWSP app from the Google or Apple stores. To participate, women will be required to visit the platform and submit short stories about their most admired businesswomen giving the reasons why, and what they would tell them if they had a chance to meet them in person. The most compelling of these submissions will be published on the platform and those who submitted them may have an opportunity to meet their role models.