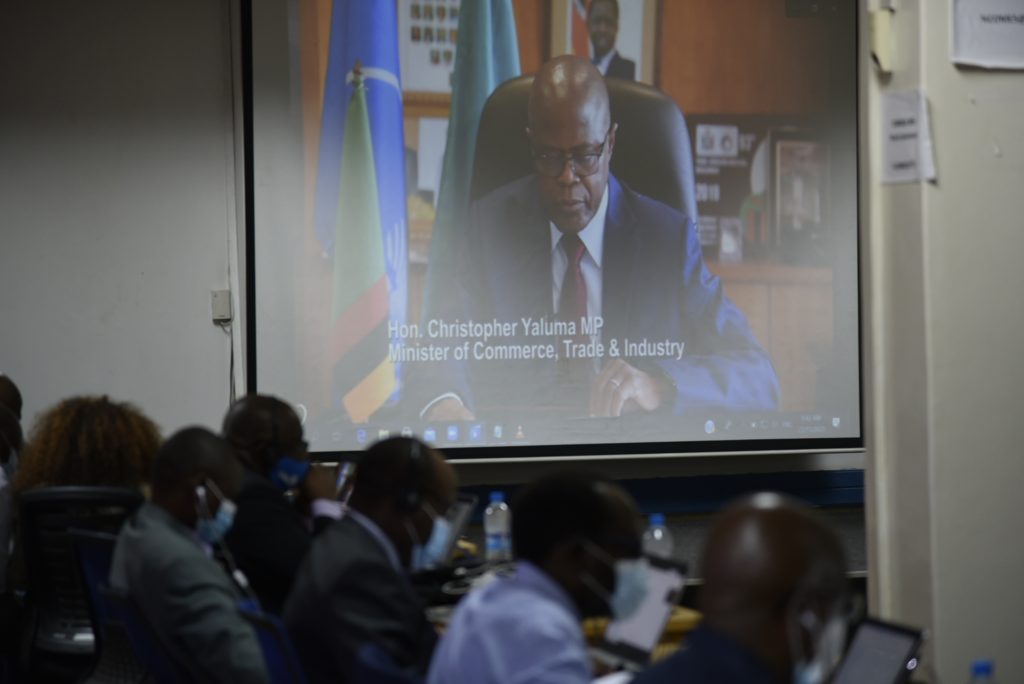 Lusaka, November 23, 2020:
The COVID-19 pandemic constituted a key discussion point in the just concluded COMESA policy organs meetings, owing to its predominant negative impacts on regional integration and more so on the movement of goods and services.
As he opened the 41st Meeting of the Intergovernmental Committee, Monday 23rd November, Zambia's Minister of Commerce, Trade and Industry Hon. Christopher Yaluma said the region has witnessed a dramatic decline and destabilization in domestic, regional and international trade, requiring the employment of comprehensive economic recovery strategies.
"COVID-19 has hit hard countries that are sources of major imports and export destinations for the COMESA region," Hon. Yaluma noted. "This has negatively impacted not only on availability of supplies, but also on prices that have risen sharply in some instances."
He cited a recent study conducted among businesses and tourism enterprises in Zambia, which indicated that 71% partially closed while 14% were totally closed.
His sentiments were reinforced by the Secretary General Chileshe Kapwepwe, who stressed the need to shift efforts towards adapting and creating solutions for business in a post COVID-19 era as the region implements economic recovery strategies.
"It is our belief that part of the reasons for the depressed intra-COMESA trade is due to prevailing restrictions in various services sectors," she said. "We therefore encourage Member States to focus more attention on capacity building in services sector in order to conclude ongoing negotiation in services."
The meeting appreciated the renewed attention towards deepening liberalization of the services sector by Member States as evidenced by the steps towards concluding negotiations of all the identified seven priority sectors. These are: business, communication, financial, transport, construction, energy-related and tourism services.
"Liberalization of services presents an opportunity to mainstream services in national development and diversification of production and exports in the COMESA region," the SG stressed.
The meeting also discussed how Member States could move forward amidst the pandemic and plan for the future, by making informed decisions that respond to challenges in solidarity and harmony.
On trade facilitation, the meeting noted the significant progress made especially on automation of customs operations and digitalization of processes and procedures, simplification of cross-border trade to support women and small-scale traders and monitoring and addressing non-tariff barriers to trade.
On infrastructure, the meeting noted that COMESA was collaborating at the tripartite level – with East African Community and the Southern Africa Development Community – to facilitate trade and transport of goods and services. This is by adopting the harmonised tripartite guidelines on trade and transport facilitation guidelines for safe, efficient and cost-effective movement goods and services.
"We call upon you as Member States to continue implementing these guidelines in order to ensure smooth flow of goods and services across our region," the SG implored the delegates.
The two days virtual meeting brought together Permanent/Principal Secretaries from the Ministries that coordinate COMESA programmes at the national level.
Speeches:
Speech by Christopher Yaluma Minister of Trade Zambia during the Intergovernmental Committee meeting
Statement by the Secretary General during the IC Meeting
Video: https://www.youtube.com/watch?v=lmAHtKvSOQ0