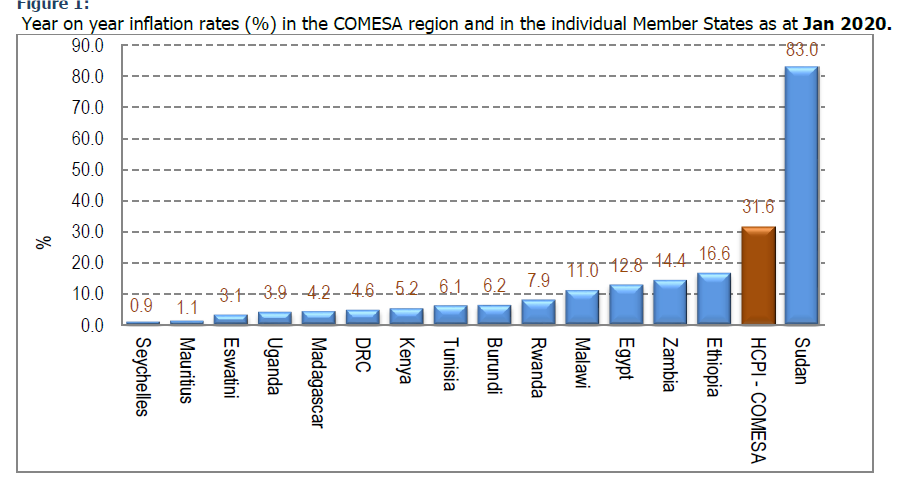 The year on year inflation rate in the COMESA region, as measured by the Harmonized Consumer Price Indices (HCPI-COMESA), stood at 31.6% in January 2020. It means that the prices of goods and services increased by an average of 31.6% between January 2019 and January 2020.
Using a particular or common currency, an item that cost an average of 100.00 cents in January 2019 increased to 131.60 cents in January 2020. The annual rate measures the price change between a particular month and the same month one year earlier. This measure is responsive to recent changes in price levels, but it can also be influenced by one-off effects in either of the two end months.
According to HCPI report released by the COMESA Statistics Unit, the rate was based on the main components of household expenditure. Housing, water, electricity, gas and other fuels recorded the highest annual inflation of +75.9% whilst the restaurants and hotels registered the least average price change of 12.5%.
HCPI-COMESA comprises of 12 divisions of expenditure which registered the following average price changes during the month of January 2020 compared with January 2019: food & non-alcoholic beverages 44.2%; alcoholic beverages and tobacco 30.9%; clothing and footwear 40.3%; housing, water, electricity, gas and other fuels 75.9%; furnishings, household equipment and routine household maintenance 24.3%; health 57.1%; transport 22.0%; communication 26.9%; recreation and culture 20.8%; education 17.9%; restaurants and hotels 12.5% and miscellaneous goods and services 40.5%.
Seychelles recorded the least annual inflation rate of 0.9%, while Zimbabwe recorded the highest year on year inflation rate of 534.8% followed by Sudan at 83.0%.
The participating Member States that contribute to HCPI-COMESA registered the following rates of total inflation in January 2020 compared to January 2019: Burundi 6.2%; Democratic Republic of Congo 4.6%; Djibouti 4.4%; Egypt 12.8%; Eswatini 3.1%; Ethiopia 16.6%; Kenya 5.2%; Madagascar 4.2%; Malawi 11.0%; Mauritius 1.1%; Rwanda 7.9%; Seychelles 0.9%; Sudan 83.0%; Tunisia 6.1%; Uganda 3.9%; Zambia 14.4%; and Zimbabwe 534.8%.
HCPIs are produced by the COMESA Secretariat in collaboration with the Member States with the aim of measuring inflation in similar ways and can therefore be compared directly with each other without the need for making special adjustments.
The HCPIs benefit from incorporating many of the international developments in consumer price index theory and methods in recent years. The Member States HCPIs are compiled by the respective countries, using harmonized methods laid down in COMESA Regulations. The aggregated figures are compiled by the COMESA Secretariat.
An aggregated HCPI is known as an "HCPI-COMESA". The aggregates are calculated as weighted averages of the national HCPIs, using as weights each country's total household expenditure in the national accounts converted to a common currency using purchasing power parities supplied by the African Development Bank and the World Bank.