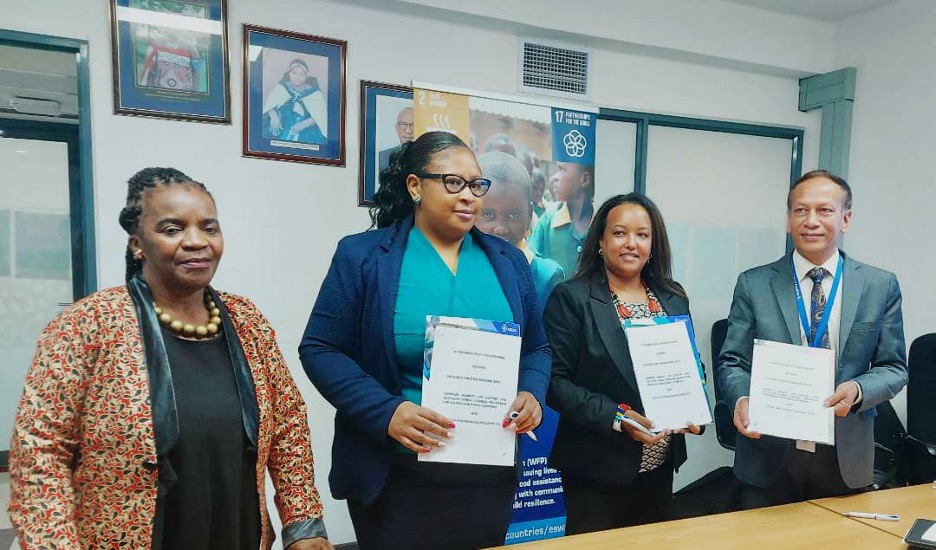 The economic fortunes of women farmers in Eswatini are set for better times after three international organizations signed a memorandum of understanding to support them to increase their supply of local produce in a school feeding programme in Eswatini.
The MoU was signed in Mbabane on 4 May 2022 by the COMESA Federation of Women in Business (COMFWB), Chief Executive Officer Ms. Ruth Negash, Center of Financial Inclusion (CFI) counterpart Ms. Nomcebo Hadebe and the World Food Programme (WFP) Eswatini Coordinator, Mr. Deepark Shah.
They undertook to collaborate in strengthening the capacity of women farmers' groups as local produce suppliers in the Home-Grown School Feeding Programme. This will be done through capacity building in business skills and finance, registration of women groups in cooperatives, adaptation of climate smart agriculture and precision farming technologies to increase agriculture productivity.
COMFWB will be responsible for organizing the farmers into cooperatives, while CFI will deal with market linkages. The WFP will be responsible for training and identifying linkages for women farmers' cooperatives. The organizations will also support the provision of appropriate agricultural inputs and value chain development in horticulture.
Ms Negash said COMFWB will mobilize local farmers to have opportunities to produce quality products and market access, locally and abroad.
"We will work on mechanisms that ensure a reduction in the number of imported products which can be sourced locally as there is a lot of potential for local products to feed the local market," she said.
Mr Shah said the WFP intervention was in line with the attainment of Sustainable Development Goal 2 on ending hunger and poverty.
In her remarks, Ms. Hadebe said the CFI was focused on promoting women and youth farmers locally to increase their visibility in the market. It was targeting to raise the percentage of female farmers to 60 percent of the currently active farmers estimated at 18,500.
"We have to make sure that farmers understand how money is handled in the business sector and that they are able to separate it from personal accounts," she said. "Some farmers are not able to tell the difference between loans, aid and grants."
Speaking at the same forum, COMFWB Eswatini Chapter Chairperson, Thandi Motsa said there is need to engage government and relevant stakeholders to discuss and agree on the pricing of local produce.
"We need to engage parliament on the regulation of prices for local produce, because it forces farmers into black market and failure of their business," she said.
She added that one of the reasons why produce like maize was imported was because of low prices offered to farmers by the national entity responsible for purchase of strategic food reserves.