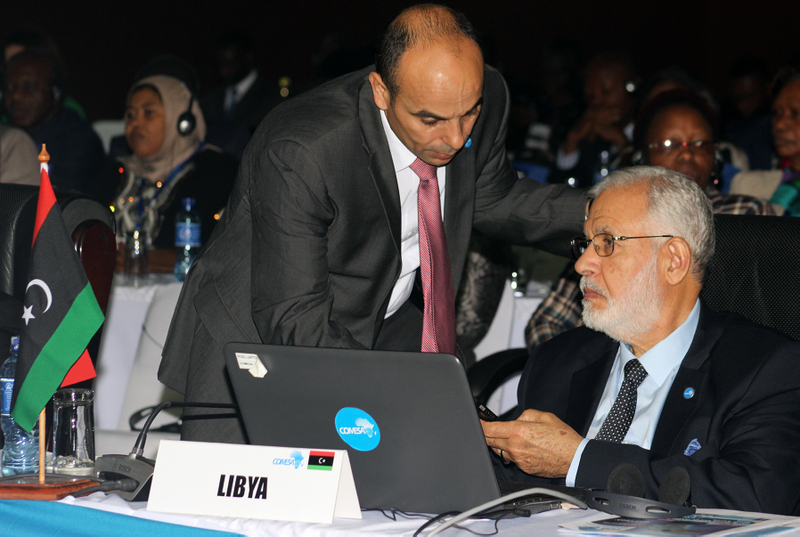 Tuesday, January 26, 2021: Libya has renewed its commitment to COMESA and resolved to actively participate in the implementation of regional integration programmes. To kickstart this process, COMESA Secretariat hosted a two-day virtual sensitization workshop on 25-26 January 2021 which was attended by stakeholders from diverse public and private sectors in Libya.
Libya's Minister of Foreign Affairs, Mohamed Taher Hamouda Siala addressed the workshop. He said his government's resolve is to be more engaged in the activities and programmes of COMESA for the benefit of the country and the region for more meaningful impact.
"Libya has long believed in the ideologies of COMESA and it was the right time to re-focus and prioritise regional integration in order to transform the economy of the country," Minister Siala said "This marks a new phase for Libya's participation in COMESA programmes and activities."
During the workshop, the Secretariat made presentations on the current regional integration programmes covering trade, infrastructure, industry, agriculture, and gender among others. Participants were also taken through programmes implemented by specialized institutions on COMESA.
Speaking during the opening ceremony, Secretary General Chileshe Mpundu Kapwepwe said Libya has always shown determination to fully benefit from regional integration programmes having joined the COMESA Free Trade Area in 2006 just after becoming a member of the organization. Libya joined COMESA in 2005.
Participants acknowledged how COVID-19 had placed additional strain on Member States'  economies, which is likely to put a risk on the socio-economic gains recorded so far.
The Secretary General however, expressed optimism on a quick return to normal business following the success of collective efforts at national, regional and continental level, to acquire and distribute vaccines.
She called for innovative ways to mobilise support for implementation of programmes and enhanced cooperation through frameworks that support joint planning and resource mobilization by Regional Economic Communities (RECs).
Among the COMESA institutions that participated in the workshop were Trade and Development Bank, Zep-Re Reinsurance Company, Africa Trade Insurance Agency, COMESA Competition Commission, COMESA Monetary Institute, Africa Leather and Leather Products Institute,  COMESA Business Council, COMESA Clearing House, Regional Investment Agency, COMESA Court of Justice, and COMESA Federation of Women in Business.