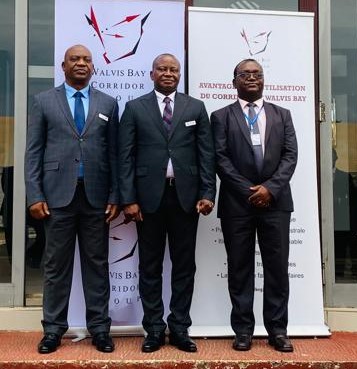 The need for increased border operating hours at the regional transport corridors is one of the key recommendations that emerged from a recent meeting of ministers of transport from the Democratic Republic of Congo, Zambia and Namibia.
Also proposed for immediate implementation was the harmonizing of transit fees and cross border charges among the countries as recommended by the various regional economic communities namely COMESA, East African Community and the Southern Africa Development Community.
This was during the 12th Tripartite Ministerial meeting on 16 – 17 March 2022 in Lubumbashi, DR Congo. The Governor of Haut Katanga Province in the D R Congo, Mr. Jacques Kyabula Katwe opened the meeting.
Among the issues discussed was the need for DR Congo and Zambia to hold regular bilateral engagements to address challenges that may arise time to time over the operation of the corridor. They urged the two, which are COMESA Member States, to increase border operating hours from 06:00 to 18:00 to 06:00 – 20:00 with immediate effect owing to high traffic at Kasumbalesa Border Post.
The Ministers agreed to improve the road infrastructure on the Walvis Bay-Ndola-Lubumbashi corridor to facilitate easier and quick transit for freight and persons travelling along the corridor. They instructed border agencies along the corridor to promote free movement of people in line with the African Continental Free Trade Agreement.
Further, the meeting recommended the harmonization of axle load limits by DR Congo and gross vehicle mass limits in line with the tripartite blocs (SADC, COMESA, EAC) vehicle load management strategy.
The blocs have so far harmonized the COVID Guidelines on Trade and Transport Facilitation for Safe, Efficient and Cost-Effective Movement of Goods and Services during the COVID-19 Pandemic. Key activity under this initiative was the development of the Corridor Trip Monitoring System (CTMS) in response to the transport and transit challenges posed by the pandemic.
The CTMS is an electronic surveillance system to monitor driver health and track the movement of drivers and trucks. It was designed as COVID-19 mitigation measure in the short term and to provide corridor performance monitoring as part of the smart corridor concept in the long term. It was launched at Chirundu in November 2021.
COMESA was represented by Senior Transport Economist, Bernard Dzawanda.