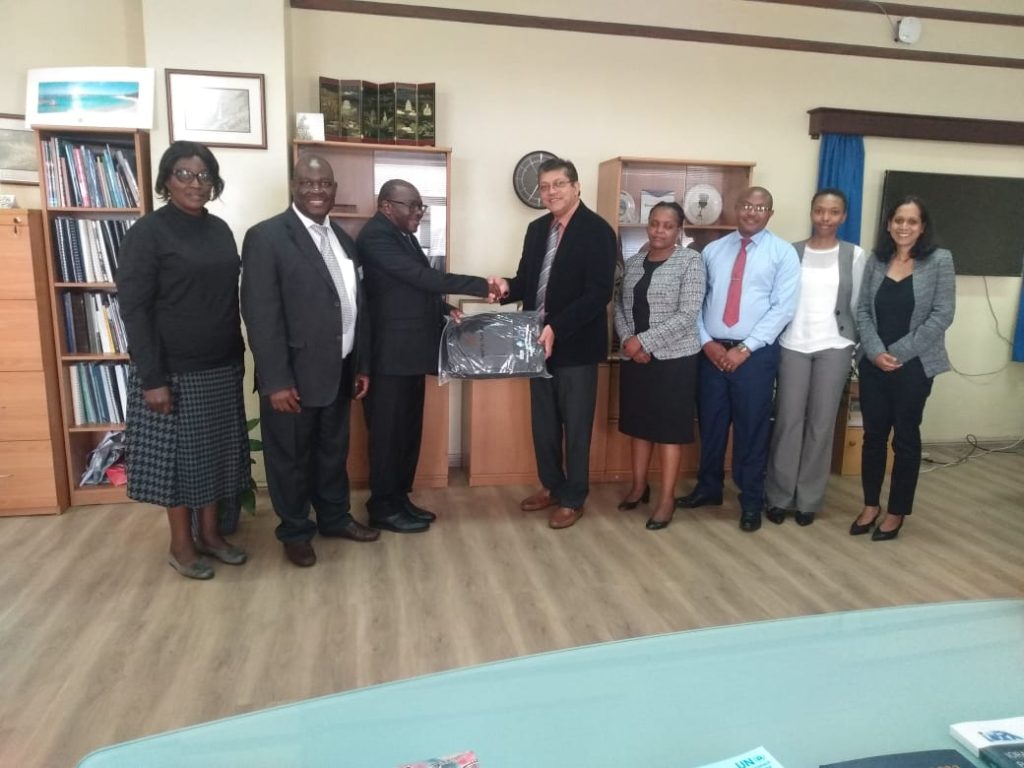 Forty-Seven students are currently enrolled for the COMESA Masters in Regional Integration (MRI) Programme, currently offered by the Kenyatta University in Kenya and the University of Mauritius.
Out of these, 39 students have received COMESA scholarships supported by the European Union (EU) and the Organisation of Africa, Caribbean and Pacific States (OACPS). The scholarships were delivered through the project on 'Enhancing COMESA's Capacity in Trade Policy Analysis, Research and Training for deeper Regional Integration and Participation in the Global Economy'.
A COMESA Secretariat team led by Director of Trade and Customs, Dr Chris Onyango was at the University of Mauritius, on 25 – 28 July 2022, on the first Quality Assurance interactive mission. The objective was to appreciate the quality in teaching and learning experience including the level of student engagement in the teaching and learning processes, support to students and complaints resolution mechanisms being offered
"…We expected to learn how the objectives of the master's degree programme are being achieved. Specifically, we wanted to gain deeper understanding of the process towards the process of implementation of the programme by the university and develop mechanisms for improving its implementation," said Dr Onyango. He described the high turnout of people interested to study the programme as encouraging.
The MRI programme seeks to provide a sound basis for conceptual, policy and practical training in various aspects of regional integration and it covers diverse disciplines including economics, law, political economy, international trade and finance among others.
In view of this, COMESA Secretariat worked closely with the learning institutions to formulate the syllabus to ensure that the programme offered is compliant with the set objectives. So far, eight Universities from the COMESA region have signed Memoranda of Understanding with the Secretariat to start offering the course. However, only the two universities, in Kenya and Mauritius have so far started offering the course virtually.
In Mauritius, the team was taken through procedures for monitoring the progression of students, including meeting coursework requirements, student attendance and guidance to students in research work.  They also discussed with stakeholders on strategies for programme visibility, programme credibility while ensuring students retention rates.
In addition, the Mission went through the University's Quality Assurance systems with a view of generating insights for the development of a framework for a regional quality assurance mechanism for the virtual master's degree programme.
The MRI was borne in recognition of the strong nexus between higher education participation, regional integration and developmental outcomes. In 2016, the Summit of the COMESA Heads of State endorsed the decision to establish a COMESA Virtual University.
Since then, COMESA has been working with 22 universities that were approved to participate in the programme.