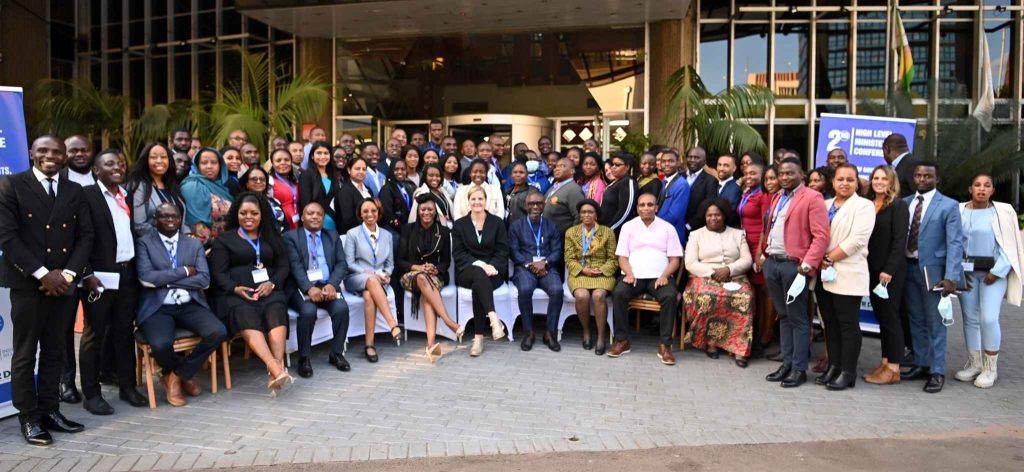 Harare, Monday, July 25, 2022: The preliminary technical meetings leading to the first-ever High-Level Youth Ministerial Conference targeting Regional Economic Communities, Regional Mechanisms, relevant Ministries in the Southern Africa Region and National Youth Councils in the region begun today in Harare.
It brought together youth leaders from the youth councils, the AU Youth Envoy, African Youth Ambassador for Peace for Southern Africa (AYAP), COMESA Youth ambassadors, and community youth leaders from countries in the East, Horn, and Southern Africa. Thirteen countries in the southern Africa region are represented.
The Permanent Secretary for Youth, Sport, Arts and Recreation, Dr Thokozile Chitepo kicked off the technical sessions, which will run up to Wednesday to pave way for the Ministerial session on Thursday 28 July. The meeting is expected to advocate for more inclusive participation and meaningful engagement with young people as an asset in peacebuilding and conflict prevention mechanisms.
The forums objectives will include the review and assessment of the implementation of international and regional legal and policy frameworks for youth in peace and security for different countries in Southern Africa, to popularize regional, national and continental legal and policy frameworks that seek to promote youth role in peace and security and to amplify youth voices as champions of peace by affording them a platform to share their experiences including existing opportunities and challenges.
Over the last few years COMESA has collaborated closely with the African Union and the Civil Society organizations in addressing conflicts and insecurity in Africa, which is mostly done within the framework of the African Peace and Security Architecture. However, according to the Head of COMESA Governance, Peace and Security Ms Elizabeth Mutunga, there has been uneven or unbalanced demographic representation.
"While most of our organisations have now made very good progress to incorporate women in all aspects of conflict prevention and peace building as guided by the UN Security Council Resolution 1325, we are still lagging in our efforts to incorporate the voice of one of the most important demographics, which is the youth," she noted.
Working with the African Governance Architecture (AU-AGA) COMESA is now jointly implementing a project on Youth Engagement in Democratic Governance and Socio-economic Development Processes in Africa. The COMESA Youth Advisory Panel was recently established to, among others gather opinion of youth on policy matters and thus update COMESA Policy Organs with well-informed advice on matters relating to the youth.
Zimbabwe Minister of Youth, Sport, Arts and Recreation Hon. Kirsty Coventry who later addressed the participating youth, encouraged them to come up with more ambitious recommendations to present to the ministers on Thursday, which should be challenging both to themselves and to the ministers so that together they can work to figure out how to achieve them.
"Many people in the continent expect this conference to answer pertinent questions including; how can you be involved in conflict prevention.. and how else can we support inclusivity on youth-led peace and security initiatives," she posed.
Ministers and Deputy Ministers from the Ministries of Youth Affairs and Foreign within the Southern Africa Region are expected to attend.
Other speakers included Dr. Rhuks Ako of the African Union Commission, Mr Anthony Njoroge, Save the Children, Ms. Chido Cleopatra Mpemba, the AU Youth Envoy, Ms Cynthia Chigwenya, AU Youth Ambassador for Peace for Southern Africa.
The conference has been jointly organized by COMESA and the African Union in partnership with Save the Children, Horn of Africa Network and African Centre for the Constructive Resolution of Disputes, Institute of Security Studies, Southern Africa Partnerships 4the Prevention of Conflict and the UN Development Programme.